AK Steel (NYSE:AKS) fell almost 14% after Goldman Sachs downgraded the company. Goldman said that the company's high level of debt and pension fund costs have increased expenses significantly. In addition, the downtrend for steel prices has put pressure on margin and revenue growth.
Steel prices have fallen due to a lack of demand from the global economy. China and India are both seeing growth slow, causing the demand for steel to fall. AK Steel's leverage would have been helpful if a recovery in steel prices came sooner, but it didn't.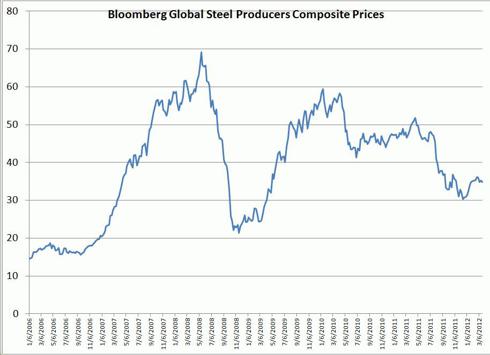 With steel prices down and AK Steel's heavy debt burden, the company will have to eliminate its dividend completely. AK Steel currently has $1.1 billion in debt and $42 million in cash, meaning the company is heavily leveraged.
For 2011, the company's interest expense was $47.5 million and it paid out $22 million in dividends. The company will have to cut its dividend as its losses rise. AK Steel also has a huge pension shortfall, meaning that the company must find ways to allocate money to the fund.
AK Steel's capital shortage and mounting losses mean that shareholders should not take comfort in the 3.7% dividend. There is a very strong possibility that the dividend could be eliminated within the next few months.
For those who are looking to get exposure to steel while grabbing some income, I suggest you take a look at ArcelorMittal (NYSE:MT). Mittal is the largest steel producer in the world and is still profitable even with steel prices this low. The company's economies of scale model allows it to manage its costs more effectively. In addition, Mittal has a solid 4.1% dividend, which is much more than that of AK Steel. AK Steel has too many problems, and if steel prices don't rebound, the company will be in a very difficult position.
Disclosure: I am long MT.