Paychex, Inc. (NASDAQ:PAYX) provides payroll, human resource, and benefits outsourcing solutions for small to medium sized businesses. Its services include payroll processing, such as calculation, preparation, and delivery of employee payroll checks; production of internal accounting records and management reports; preparation of federal, state, and local payroll tax returns; and collection and remittance of clients? payroll obligations.
It is scheduled to report its Q4 2012 results on June 27, 2012, after the market closes, and will follow up with a conference call in the morning (10:30 a.m. ET) of June 28.
Technical Overview
Key Metrics
Market Cap: 11.81B
52-week trading range: 25.12 - 32.73
Trailing P/E: 21.72
Forward P/E: 19.99
Price/Sales: 5.37
Price/Book: 7.40
PEG Ratio: 2.14
Total Debt: 0.00
Annual dividend yield: 3.90%
Return on Equity: 35.49%
Return on Assets: 8.72%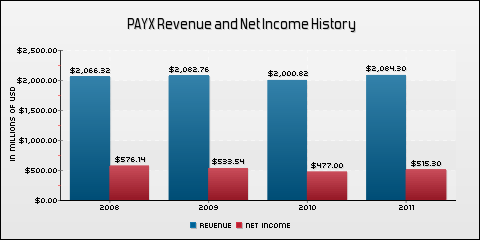 Recent EPS Actuals vs. Estimates
The company has met or beaten analysts' estimates in the last four quarters. In the last quarter it reported $0.37 EPS, in-line with analyst estimates.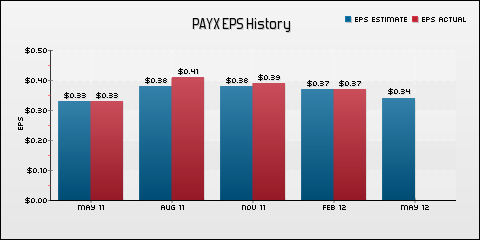 The consensus EPS is $0.34 based on 23 analysts' estimates, up from $0.33 a year ago. Revenue estimates are $557.67M, up from $522.70M a year ago. The median target price by analysts for the stock is $31.00.
Average recommendation: Hold
Source: Marketwatch
Analyst Upgrades and Downgrades
On March 30, 2012, RBC Capital Mkts reiterated Sector Perform rating for the company.
On March 1, 2012, UBS initiated Buy rating for the company.
On February 29, 2012, UBS initiated Buy rating for the company.
On December 22, 2011, RBC Capital Mkts reiterated Sector Perform rating for the company.
Latest Developments
On January 9, 2012, Paychex, Inc. announced it has acquired Icon Time Systems, Inc., provides in time and attendance solutions for small businesses. Paychex initially partnered with Icon Time Systems in February 2011 for the launch of the Paychex PST 1000 time clock, an easy-to-use system that delivers progressive time and attendance technology to small businesses.
On December 21, 2011, Paychex, Inc. announced that the fiscal 2012, it expects total services revenue to increase 7%-9% and net income to increase 5%-7%. The Company reported revenues of $2.076 billion and net income of $514.73 million in fiscal 2011.
Competitors
Paychex, Inc. operates in Staffing & Outsourcing Services industry. The company could be compared to Automatic Data Processing, Inc. (NASDAQ:ADP), ManpowerGroup (NYSE:MAN), Robert Half International Inc. (NYSE:RHI), and Towers Watson & Co. (TW). Below is the table comparison of the most important ratios between these companies and the industry.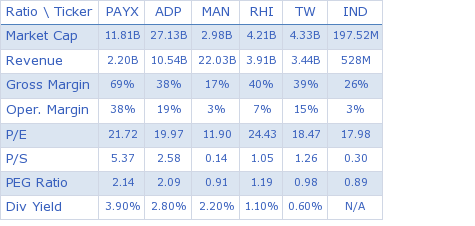 Below is the chart comparison with the stock price changes as a percentage for the selected companies and S&P 500 index for the last one year period.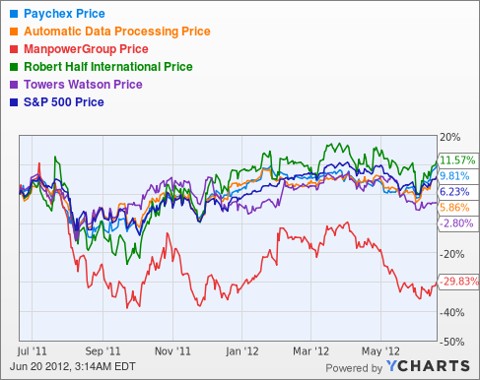 Sources: Yahoo Finance, Google Finance, Marketwatch, Finviz, Reuters.
Disclosure: I have no positions in any stocks mentioned, and no plans to initiate any positions within the next 72 hours.