GNC Holdings (NYSE:GNC) operates a chain of health and wellness stores throughout the United States and internationally. The company is a global specialty retailer of health and wellness products including vitamins, minerals and herbal supplements products, sports nutrition products, and diet products.
As of March 31, 2012, GNC has more than 7,700 locations, of which more than 5,900 retail locations are in the United States (including 928 franchise and 2,146 Rite Aid franchise store-within-a-store locations). It also has franchise operations in 56 countries, including distribution centers where retail sales are made.
Fundamental Analysis
The company has been delivering positive earnings surprises ever since its initial public offering in April 2011, resulting in more than twofold growth in its stock price. With an average earnings surprise of about 20.4% over the last four quarters and a long-term growth projection of about 18.0%, this health supplement retailer is a solid pick for growth.
GNC raised its 2012 revenue and earnings guidance following strong first quarter results. The company now expects to report revenues of $2.37 billion (vs. the previous guidance of $2.28 billion), representing 14.5% growth. This guidance is based on achieving 8% same-store sales growth for the balance of the year. The earnings guidance was boosted by 12.6% to $2.05, representing 35% growth.
Based on 2012 earnings estimates, the company is trading at a P/E of 18. The Price/Book stands at 3.68. Given the strong earnings potential, the company's valuation seems reasonable.
Short Term Trigger For The Stock: Management declared a cash dividend of 11 cents per share to be payable on June 29, 2012. The company also recently announced a share-repurchase program. On June 19, 2012, the company announced that its board of directors had authorized a program to repurchase up to an aggregate $300 million of the company's Class A common stock. GNC expects any repurchases under the program to commence on or about July 31, 2012, and occur over the following 12 months.
Technical Analysis
The share price of GNC has been consolidating in a range over the last two months. Yesterday, June 20th, the share price closed at $37.07. An up-move started this week, and it seems a 25% rally is possible from the current level. We may test the consensus one-year target of $46.57 in this up-move.
Click to enlarge image.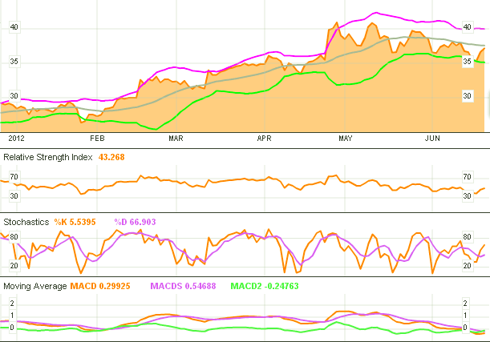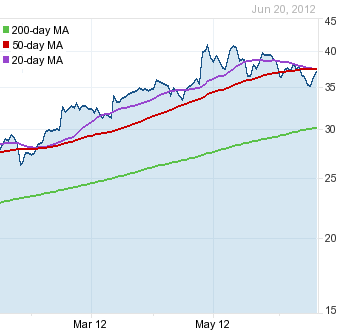 The shares of the company have been trading consistently above the 200-DMA of $30 since February. The RSI, MACD, and Stochastics just turned bullish and are giving us strong entry signals.
Yesterday's price movement made the 50-DMA line touch the 20-DMA line. I expect the 20-DMA line to bounce off the 50-DMA line, as happened earlier this year. If that happens in the near term, the share price will start to trade above its 50-DMA as well as 20-DMA. That will confirm the uptrend.
Disclosure: I have no positions in any stocks mentioned, but may initiate a long position in GNC over the next 72 hours.