Materials stocks have enjoyed a remarkable run, whether measured in months or years. Morningstar's "industrial materials" category is the top performer among 12 major sectors for one-, three- and five-year periods, as well as year to date.
More than 90% of the iShares Dow Jones US Basic Materials portfolio (NYSEARCA:IYM) falls into that category, which owns a one-year return of 42.6%, with three- and five-year annualized gains of 28.4% and 37.7%, respectively. Those numbers, together with IYM's one-year jump of 22.9% and five-year annualized gain of 21.4%, have some analysts and investors wondering if the cyclical sector is nearing a peak, especially with a U.S. recession looming.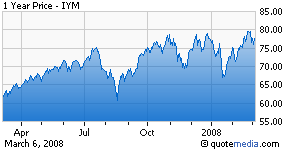 IYM heavily emphasizes the stocks of firms in the chemicals, industrial metals and mining industries, recent beneficiaries of a global commodities boom. In short, global growth—from economies to populations and increasing wealth in places such as China and India—fueled skyrocketing demand for commodities from fertilizer to gold while supply for many materials has been low. When prices rise, so too do companies' profit margins, balance sheets and stock prices.
Closer to home, the combination of a long bull market and long-developing uncertainty about the U.S. economy sent U.S. investors flocking to the sector, driving stock prices higher. There's been some talk of sky-high valuations after such a run-up, which could result in a painful pullback during a global slowdown.
But for now, IYM and the materials sector are holding up well in an increasingly difficult period for stocks, thanks to their global reach. We added IYM to our ETF Momentum Tracker Portfolio on Feb. 6, and the ETF posted a 7.2% NAV gain (through Feb. 29), compared to a flat S&P 500.
Monsanto (NYSE:MON), DuPont (NYSE:DD) and Dow Chemical (NYSE:DOW) recently accounted for nearly one-quarter of the ETF's assets. Add in recent top 10 holdings Praxair (NYSE:PX) and Air Products & Chemicals (NYSE:APD), two industrial gas providers—which, like many of the fund's stocks, have benefited from stronger pricing recently, with one-year stock price gains of 32.6% and 25.3%, respectively—and chemical stocks make up more than half of the portfolio.
That, and the fact that more than half of the portfolio's assets rest in the top 10 holdings, might make one assume that IYM courts a lot of risk. That's not really true: The fund sports a standard deviation of 14.41, reasonable for a sector fund, in part because chemicals are a diverse lot.
For example, top holding Monsanto dominates the agricultural seed business during a time when demand is skyrocketing across the globe. The firm's stock is up more than 120% in the last year (through Feb. 29) and more than 1,300% over the last five years. Likewise, fertilizer producer The Mosaic Company has posted a 351.3% 12-month gain.
Dow and DuPont, by contrast, offer exposure to a wide range of industries, including the now-struggling areas of construction and automotive. Both stocks are down over the last 12 months, and many expect the housing slowdown to continue to crimp demand.
IYM adds diversification outside of chemicals, with sizable bets on metals such as steel (No. 9 holding Nucor (NYSE:NUE) is up 9.0% year to date) and aluminum (No. 5 Alcoa (NYSE:AA), with a 30-day return of 8.3%), mining and gold (Freeport-McMoRan (NYSE:FCX), up 9.5% for 30 days and 84.6% for one year) and even forestry and paper. The latter two, currently out of favor because forest products are intrinsically tied to the construction industry and weak demand/pricing for paper, have been reduced to just 6.3% of assets.
Despite that diversification, IYM remains tied to highly cyclical industries. Because of the unpredictability of the materials sector, it's best-suited to a supporting role in a portfolio. The reason? The intense supply and demand cycles that dictate performance in this sector don't allow much stability. Conditions can change rapidly. In fact, one doesn't need to go far back into the past to see the fund's swings in action.
For evidence of that, look no further than the last year. Three times in the last year, IYM has dropped more than 9%—and as much as 13.8%—in less than a month. The latest dip, of 12.8%, came from Dec. 21, 2007, to Jan. 18 this year.
There are concerns that those short-term blips could grow into a more extended downturn, especially after the long run-up. One bogey for the fund's timeliest industry, the S&P Fertilizers & Agriculture Chemicals Index shot up 108% in 2007. But today S&P has no "buy" recommendation on any stocks in the space, with valuations high.
Still, it may take more than a U.S. slowdown to derail the trends that helped IYM build its impressive record. If global growth continues going forward, IYM could provide a boost to a diversified portfolio, especially during a U.S. recession.