Shares of chip maker National Semiconductor (NSM) are up over 6% at $17.40 after the company Thursday evening reported sales a bit light of estimates but profit per share higher than expected for the third quarter ending Feb. 24.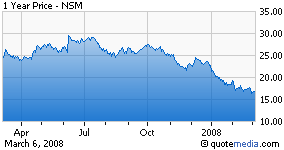 Sales of $453 million, down 9% from the second quarter and up 5.2% from the year earlier period, were just shy of an average estimate of $457.4, according to Thomson Financial/First Call, while profit of 28 cents per share beat the average 24-cent estimate. The company said sales were hurt by lower-than-expected shipments of chips for cell phones and mobile devices. Bookings were down 14% from the prior quarter, the company said.
National declared a cash dividend of 6 cents per share, payable April 7 to shareholders of record on March 17. National said it bought back $120 million of its stock in the third quarter, and still has $480 million authorized under the current buyback plan.
The company will hold a conference call with analysts at 4:30, which you can access here.