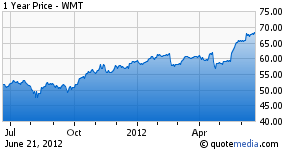 Overseas markets represent a major growth area for Wal-Mart Stores (NYSE:WMT), and a recent New York Times news report that Wal-Mart engaged in bribery to grow its Mexican operations has cast a cloud over the company's ability to seize overseas growth opportunities. The allegations may even impact the retail giant's U.S. market expansion efforts.
Wal-Mart has identified China, Mexico and Brazil as "high-growth" markets whose sizable middle-class populations are looking for products that offer value, a Wal-Mart specialty. If the company finds its overseas growth hampered as a consequence of investigations, the company's competitive position may be somewhat eroded, at least for the near term.
Indeed, the company has reported that it will be opening fewer stores in Mexico and Central America this year, paring back its estimates to a range of 325 to 335 store openings, from an earlier estimate of as many as 436 openings in the region, a drop off of as much as 25 percent.
For its fiscal year 2012, Wal-Mart's saw net sales in its Wal-Mart International business segment grow 15 percent from the previous year. Operating income for the segment grew almost 11 percent. In comparison, the company's Wal-Mart U.S. business segment saw its sales rise only 1.5 percent, and operating income grow a little over 2 percent, while the Sam's Club business segment saw an almost 9 percent hike in sales and a 9 percent rise in operating income.
For the period ending April 30 2012, the first quarter of the company's fiscal year 2013, Wal-Mart International accounted for 28.5 percent of Wal-Mart's total sales, up from about 27 percent of the prior year's first quarter sales. The international segment's sales grew 15 percent from the previous year's first quarter, compared with about 6 percent growth for the Wal-Mart U.S business segment and about 8 percent growth for the company's Sam's Club segment. And operating income at Wal-Mart International was up 21 percent from the prior year's first quarter, compared with 8 percent growth for Wal-Mart U.S. and 7.7 percent for Sam's Club.
In the last five years, for the fiscal years 2008 through 2012, Wal-Mart has grown from 7,288 units to 10,130 units. Much of this growth has come from Wal-Mart International, which has grown 83 percent from 3093 units to 5651 units during the same period.
Clearly, Wal-Mart International is a major growth avenue for Wal-Mart. Other avenues the company sees for growth are to cut down on its operating expenses and to seize on e-commerce opportunities. It seems there is scope for Wal-Mart to improve its 5.94 percent operating margin, considering that Target Corp.'s (NYSE:TGT) operating margin is 7.55 percent.
Looking at other metrics, Wal-Mart's sales have gone up about 19 percent in the recessionary climate of the last five years, from $373 billion for fiscal year 2008 to $443 billion for 2012.
During this period, the company has grown its earnings per share from $3.15 to $4.54 and stepped up its dividends from $0.88 to $1.46 per share.
For fiscal year 2013, the company is looking to pay out $1.59 per share in dividends, translating into a dividend yield of 2.3 percent at Wal-Mart's current price of about $68. The company reported earnings per share of $1.10 per share for the first quarter of the year, up from $0.97 in the previous year. Wal-Mart also engages in share repurchases and could spend more than $11 billion on repurchases in the coming year.
Comparing Wal-Mart to its competitors in the retail space, the company's gross margin of 0.25 is lower than the industry standard of 0.30. Target Corp.'s gross margin is at the industry average, while Costco's (NASDAQ:COST) is considerably lower at 0.12. At its current price of about $68, the company's price-to-earnings multiple of 14.61, based on the trailing twelve months period, compares favorably with the industry standard of 24.14 and with Costco's 25.64. However, Target looks better at 13.55. Based on its forward price-to-earnings of 12.7, Wal-Mart compares favorably with 20.88 for Costco but Target looks better at 12.05.
Besides the most recent issues, Wal-Mart is also facing lawsuits relating to employment conditions and wages owed to employees as well as allegations of discrimination against female employees. There is also a government investigation relating to Wal-Mart's handling of potentially hazardous merchandise.
While Wal-Mart may not gain much traction in the near term as investigations impede its growth prospects, investors are familiar with the "headline risk" associated with this company. Following the bribery allegations, lawsuits have been filed against Wal-Mart executives blaming them for not adequately handling the bribery issues. After declining from about $62 on April 20 to about $57 in the following week after the bribery story came up, the stock has regained form and risen to $68 as investors appear to have shrugged off the latest negative news. Considering the dividend yield and prospects for longer-term growth, investors might want to consider buying the stock on declines.
Disclosure: I have no positions in any stocks mentioned, and no plans to initiate any positions within the next 72 hours.