Web companies mostly have a shorter lifespan than traditional companies. During the dot com bubble, investors were willing to pay an irrational sum of money for the future potential of making money. However, this potential never became reality as technology always outpaced the business. Every time we move through the stages of the World Wide Web (1.0, 2.0, etc) companies find it very difficult to survive and adjust. They either die as quickly as they grew like Webvan and Pets.com or remain dwarfs that can never achieve their all-time highs again, a fear many Yahoo (NASDAQ:YHOO) shareholders sleep with every night.
For hardware and software companies, it is very important to innovate and stay ahead of the curve if you do not want to be left behind. Many companies like AOL (NYSE:AOL) and Research in Motion (RIMM) know this all too well. There is no such thing as a "cash cow" for these types of companies, and competitors left and right can snatch business through innovation. This is something that Apple (NASDAQ:AAPL) cannot afford to forget if they want to continue to be the world's most valuable company. This is also why Facebook (NASDAQ:FB) had a lackluster IPO and has a short interest of over 31 million shares . Many are betting that Facebook will not survive the transition from the current Web 2.0 to the new Web 3.0. They are wrong. Facebook will make the successful transition onto mobile and thrive profitably while doing so.
What is Web 3.0? Everything will be focused on the individual. Your phone will know more about you than yourself. Your phone, and thus marketers, will know what you want before you know what you want. This data will personalize your internet experience to provide intelligent search and specific advertising. We have already seen the benefit to the American consumer from the success of Amazon (NASDAQ:AMZN). If you see it and you want it, you get it. But this is a huge opportunity for marketers too. Imagine if you had a magical mailing list of addresses of potential customers for your exact product. Unfortunately for the U.S. Postal Service, the era of mail marketing is dead. It is all about Web 3.0. And Facebook is about to exploit it.
My marketing professor at NYU Stern, Professor Hershfield, showed us something in class that I will probably never forget when I think of marketing.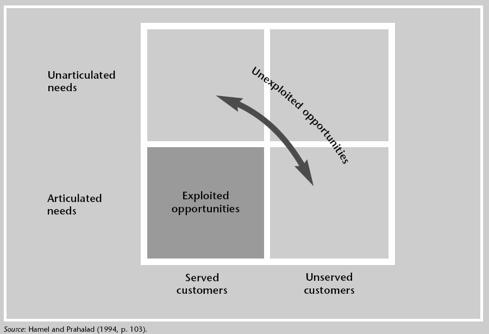 If there is an articulated need and the product exists, that user is "exploited", or as a consumer I like to think of it as "served." However, if you are any of the other three boxes, you are not "served". Even Google Adsense, the current king of online marketing relies on some kind of input from the user. Sure, it can learn from your search and determine your interests. But it is still finding trouble monetizing the mobile experience, especially because it relies on a user search. Facebook allows marketers to cleanly enter the top left box through "Sponsored Stories", where the product or service exists, but the customer may not know that they want it.
"Sponsored Stories" appear seamlessly integrated into the user's newsfeed along with names of friends who have a connection to that brand. Research shows that the human eye automatically ignores the right side of web pages because it is used to seeing ads on the right column of Facebook. This will no longer be a problem. If your friends purchase a new video game online and you see it on Facebook, a need is now created. You will want that game too for bragging rights. If your friends like Carvel and you see that on your newsfeed on a hot summer day, you are more likely to pick Carvel over Haagen-Daaz. The possibilities are endless.
Best of all, this innovation allows Facebook to move to mobile without compromising their profits, something that continues to haunt Google even with the Android OS. The botched Facebook IPO was a reaction to comments that Facebook's profitability can not be maintained on a mobile platform. But now, advertisers can choose to only advertise on mobile using what seems to be a successful strategy. But does this new marketing style work? Here are some preliminary results. Keep in mind that Facebook only started serving "Sponsored Stories" a few weeks ago.
Data from TBG Digital, AdParlor, and Spruce Media, three of Facebook's biggest ad partners shows that mobile ads on Facebook are clicked 13 times more and earn 11 times more than Desktop ads.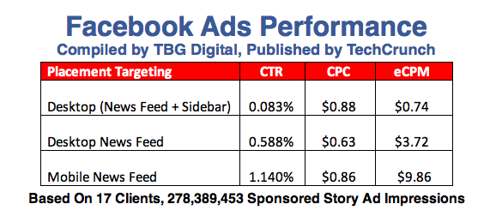 As the chart shows, mobile ads are doing very well right now. This is very promising for the future of Facebook. This article explains the details of these numbers.
Facebook's recent acquisition of Face.com, a maker of face recognition software, means that users no longer have to manually tag photos they upload online. As picture taking has moved from digital cameras to cell phones, more users will now use Facebook software to take pictures. That makes it much harder for others to compete on the mobile front. Again, Facebook is taking advantage of mobile and Web 3.0, not ignoring it.
Furthermore, Facebook announced changes in the way payments work through Facebook. Rather than Facebook credits, users will be able to use their own local currency to pay. Also, merchants will be able to offer monthly subscription services. This has huge potential.
Facebook has cracked the puzzle of how to monetize cell phone traffic. They are the only company that organically receives mobile traffic and successfully monetizes it. Web 3.0 will be huge, and Facebook is here to dominate. Mark Zuckerberg has shown the ability to innovate as Facebook grows and I have confidence that he will continue to do so. This company will find ways to dominate and profit despite fast changes in technology because the business plan does not depend on the technology itself. It takes advantage of new technology.
I can not say that Facebook is a buy by any traditional metric used on Wall Street. Every metric says that the stock is too expensive. If that is uncomfortable for you, then go buy Apple or Microsoft (NASDAQ:MSFT), both of which are cheap and growing. But if you believe that Facebook will successfully crack the cell phone market, I believe investors will be willing to pay way more to own a piece of Facebook.
Don't let the weak IPO fool you. The long-term story still exists if you believe in it. Nothing has changed fundamentally about Facebook's business. This web company will survive the successful transition from Web 2.0 to Web 3.0.
Disclosure: I have no positions in any stocks mentioned, but may initiate a long position in FB over the next 72 hours.