Industry Introduction
The auto industry has become one of the largest industries in the world, primarily because of the size of domestic markets, with China cementing its position as the largest auto producer in 2009 -- one step ahead of the U.S., which comes in second. Historically, the auto industry has been dominated by companies like General Motors, Ford, and Chrysler. However, over a period of time, increased competition from international auto manufacturers and high oil prices have affected these companies adversely.
Below we will take a look at the key industry drivers, and provide an in-depth analysis of market leaders in the industry.
Industry Drivers
Growth in Emerging Economies: Emerging economies like China, India, and Brazil have enormous growth prospects for automobile manufacturers. According to a report by the World Bank, there are 34 cars per 1,000 people in China, with the figures showing that in India the number stands at 12, in Brazil at 178, and at 190 in Mexico. These unsaturated markets provide huge growth potential for auto manufacturers.
Energy Prices: The auto industry's profitability and the demand for its products are directly linked to energy prices. Higher oil prices usually hurt automobile sales, as consumers stop buying vehicles that are not fuel efficient like big trucks and SUVs. Recently, there has been a growing trend toward producing energy efficient cars, including hybrids, to counter the effects of volatile gasoline prices, which have been high in recent years.
Economic Environment: Periods of high economic growth and the resulting high consumer confidence can boost auto manufacturers' revenues.
Auto Finance Rates: High interest rates make it more expensive to take out loans to buy cars, denting auto sales. This factor, however, is not threatening the auto industry at present because of a low interest rate environment.
Click to enlarge images.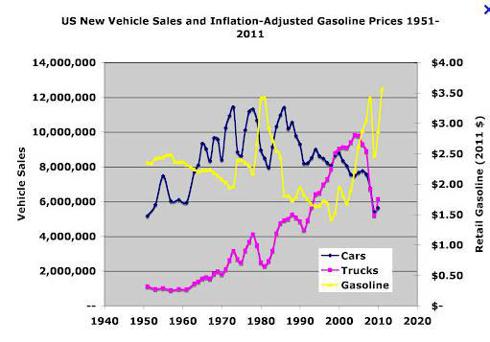 The chart given below shows the monthly trend in the Seasonally Adjusted Annual Rate (SAAR) for the auto industry, which bottomed in Q2 2009. U.S. auto sales are expected to exceed their pre-crisis levels in the current year, which is a good sign for auto manufacturers.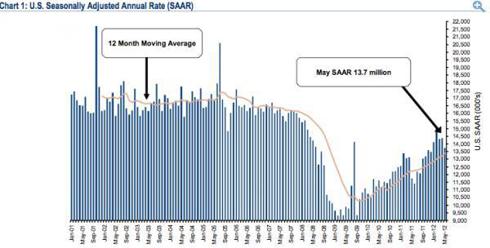 General Motors Company (NYSE:GM)
General Motors designs, manufactures, and markets cars, crossovers, trucks, and automobile parts, worldwide. The company markets its vehicles primarily under the Buick, Cadillac, Chevrolet, GMC, Opel, Daewoo, Holden, and Vauxhall brand names. The company, through its subsidiary General Motors Financial Company Inc., provides automotive financing services and lease products to consumers as well as dealers. GM'S business is diversified across products and markets and a considerable portion of the company's sales are generated internationally, with a lot of volume coming from the BRIC nations.
GM operates through four segments: GM North America (GMNA), GM Europe (GME), GM International Operations (GMIO), and GM South America (GMSA). China is the biggest and fastest growing market for GM in terms of vehicles sold, and in the first quarter of 2012, the company's International operation division derived around 80% of its sales from China. The table given below shows the production volume (in thousands) from its four segments.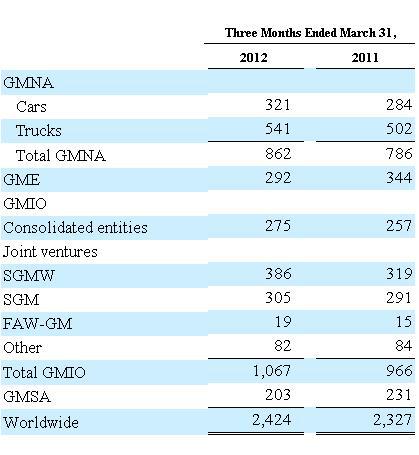 GMIO was able to increase its market share in China from 13.6% to 15% in Q1 2012 (sales of 745,000 vehicles, up from 686,000).
GM's financial revenues increased in the first quarter by almost 45%, largely due to increased lease income of $41 million from its lease portfolio and increased finance charge income of $90 million. The chart provided below shows the improvement in revenues in GM's Financial Division.

Rising sales in GMNA, GMSA, GMIO: GM's revenues increased in FY 2011; however, the company's gross margins remained flat mainly due to increases in the cost of sales. In the first quarter of 2012, total revenues increased by around $1.6 billion, primarily due to increased volumes, however, this increase was offset partially by the strength of the U.S. dollar. Costs increased in line with revenues in the first quarter of the current year, mainly due to increased freight costs and pension benefits. The point of concern for GM is the poor performance of its European Division, which saw a decline in its sales in the most recent quarter.
Balance Sheet Strength: GM has around $30 billion in cash and short-term investments, which is sufficient to meet the company's liquidity needs going forward. The company has a total debt of around $14 billion as of the most recent quarter, with a reasonable leverage ratio. GM's operating cash flow showed improvement in the recent quarter ($2.3 billion vs. negative operating cash flows in 1Q2011), mainly due to favorable changes in the working capital. The company intends to use its operating cash flows for capital expenditures and debt reduction.

Economic Environment: GM's financial results are highly sensitive to sales volume, which, in turn, depend on economic and market conditions, as well as other factors like the level of unemployment and the cost of fuel. The recent volatility in oil prices coupled with high levels of unemployment have increased the demand for energy efficient vehicles. This shift can have a favorable impact on GM's revenues, as it has announced that it will offer pickup trucks that run on natural gas in 2013.
Market Performance: GM's stock outperformed the S&P 500 as well as competitors like Honda Motor (NYSE:HMC) and Ford over a period of six months.
Valuation: GM is earning $3.32 per share. Based on a P/E of 7, we arrive at a target price of $23, with an upside of almost 6%. It is currently trading at a discount to its industry average in terms of P/E multiple, indicating that it is a relatively cheap stock.
Recommendation: A strong balance sheet, growth in production and sales in emerging markets, and a slowly improving economy all come as good news for GM's stock and make it a safe stock to hold. However, the company's tarnished image from the old GM's bankruptcy and its decision to make cuts in its pension scheme may damage its valuation.
Ford Motor Co. (NYSE:F)
Ford Motor designs, manufactures, and distributes vehicles and related parts worldwide. The company operates through two sectors: Automotive and Financial Services. The Automotive sector offers vehicles primarily under the Ford and Lincoln brand names. This sector markets cars, trucks, and parts through retail dealers in North America and through distributors and dealers outside North America. It also sells cars and trucks to dealers for sale to fleet customers, including daily rental car companies, leasing companies, and governments. The Financial Services sector offers various automotive financing products to its automotive dealers and consumers.
According to Ford's latest SEC filings, the company's net income decreased by almost $1 billion in Q1 2012. This decrease was primarily due to higher tax expense and poor operating results. The table below shows that Ford's operating results deteriorated in the first quarter, even before accounting for the adverse effects of taxation.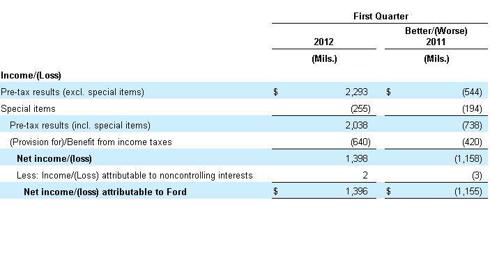 Deteriorating volumes and sales: Both volumes and sales decreased in Q1 2012 compared to a year ago, largely due to lower volumes in its European and Asia Pacific divisions, resulting in lower operating margins. Operating profits also took a hit of around $300 million in the quarter. The company's North American Division was the only profitable division that showed improvements, both in volumes and revenues generated. The division's pretax profit is the highest since early 2000.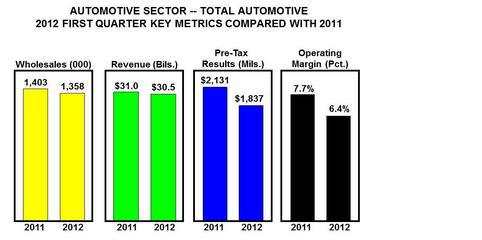 Ford's European Division was among the poor performing ones, with first quarter revenues declining by 17% compared to the previous year. The division failed to achieve the industry sales target because of low industry sales and lower demand for parts and accessories, as well as poor working capital management.
Going forward, Ford Europe is likely to continue to make losses despite the company's continued cost reductions.
Ford's financial services sector has two segments: Ford Credit and Other Financial Services. Operating profit for the segments decreased in the first quarter, largely because of low financing margins.
Balance Sheet Strength: Ford has around $35 billion in cash and short-term investments (maturities ranging from 90 days to a year), which is sufficient for the company to maintain its liquidity needs. The company, however, has a substantial debt of around $100 billion and a high debt-to-equity ratio of 600%, which can be a cause for concern going forward. The company's operating cash flows have also shown deterioration in the recent quarters. Ford's pension plan is currently underfunded by $9 billion and it currently pays a dividend of $0.20 per share.
Economic Environment: The company's market share has declined in recent years because of low industry sales in the U.S. Because of the financial crisis and the resulting recession and high fixed costs of this industry, Ford's profitability has been adversely affected. However, with the economy recovering, the company's sales are starting to pick up and return to previous levels.
Recommendation: Despite Moody's upgrade of Ford's debt and an upward revision to the company's forecast results, we are bearish on the stock based on the European and Asia Pacific results and a declining revenue trend that is expected to continue.
Toyota Motor Corporation (NYSE:TM)
Toyota Motor engages in the design, manufacture, assembly, and sale of passenger cars, minivans, and commercial vehicles. It offers conventional engine vehicles, including subcompact and compact cars under the Corolla, Yaris, Vitz, and Etios brand names, among others. The company also provides hybrid cars under the Prius and Crown brands. In addition, it offers a range of financial services comprising retail financing, retail leasing, wholesale financing, and insurance. TM has operations in Japan, North America, Europe and Asia.
Improving sales but weak net revenues:
Despite the fact that TM had to stop some of its operations owing to the earthquake in Japan and Thailand, the company has posted impressive results. According to the latest reports, TM increased its sales in Japan and overseas by almost 44,000 units, up by almost 0.5% from last year. The company also sold more cars in Japan, largely due to the introduction of new products. Overseas vehicle sales dropped by 2% due to a decline in sales in the North American region. TM's net revenues from the automotive operations decreased by 2% in FY 2012 compared to last year due to the effects of the exchange rates. Net revenues for the company's Financial Division also decreased in the most recent quarter, which was mainly due to the recording of valuation losses on interest rate swaps.
The company suffered greatly in the North American markets where net revenues dropped by almost 700 billion yen, a drop of almost 13% from last year. This decrease was mainly due to low production volumes and vehicle sale in the region. A stronger yen and weak sales in the North American markets will weigh on the company's profitability.
Disclosure: I have no positions in any stocks mentioned, and no plans to initiate any positions within the next 72 hours.