American Electric Power Co. (NYSE:AEP) generates, transmits, and distributes electric power to customers in the central U.S. as well as Virginia, Kentucky, and West Virginia. The company also transports dry bulk goods along the Mississippi. It generates electricity using coal, lignite, natural gas, nuclear energy, and hydro electric energy. It beat earnings estimates slightly in Q1, but it did not reconfirm its 2012 guidance. However, investors should not be overly worried about this. The company looks well set up for the longer term, and it looks well set up to weather the currently brewing economic storm. The stock price may or may not appreciate much in the near term, but the 4.74% dividend should make investors happy.
A few of AEP's recent actions show management is actively growing the company. AEP issued $800 million in TCC securitization bonds in March 2012. It acquired BlueStar Energy. This should add to the bottom line in future quarters. AEP's Transco and ETT investments are on schedule. Plus it announced the Transource joint venture with Great Plains energy on April 4, 2012. These items should eventually add to earnings growth. Furthermore, AEP's dividend payout is supported by large regulated operations, which make it a safe bet in these troubled times.
Naturally AEP suffered a sub par Q1 2012 as did most utilities due to the unseasonably warm winter weather the U.S. experienced this year. AEP will probably suffer some drag from the slowing economic situation in the U.S. The Fed just lowered its estimates for FY 2012 GDP by -0.5% on Wednesday, June 20, 2012, and the BlueStar acquisition should help to ameliorate such problems. Cheap natural gas prices may help, too. For instance, the AEP East group has moved from 61.2% coal and 21.7% natural gas in Q1 2011 to 47.0% coal and 47.3% natural gas in Q1 2012 use for its production of electricity. Of course, this has meant coal inventories have had to be managed well. The company reports it is doing this. AEP has coal 100% hedged in 2012 and 80% hedged in 2013. AEP will likely have to pay more for coal due to this, as U.S. coal prices have fallen dramatically. However, AEP should be paying the floor price of the hedges, so this situation should still mean some savings on coal. Plus, the company will avoid some of the problem of too high coal hedges because the extra natural gas usage is largely not hedged. Therefore it should provide more savings.
One of the more impressive management accomplishments in recent years has been AEP's ability to steadily decrease the total debt/total capitalization ratio. The chart below shows AEP's recent accomplishments. It is impressive.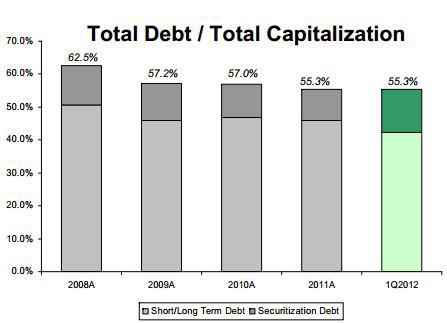 This should stand AEP in good stead going into what appear to be tougher economic times. A few positive recent events such as the decision by the Public Utilities Commission of Ohio to extend the temporary capacity charge for AEP should help. Ohio apparently wants more competition among its utilities. However, this decision signals that Ohio is unwilling to negatively impact companies such as AEP in hard times. This "rational" behavior bodes well for AEP in the near term.
The two-year chart of AEP provides some technical direction for this trade.
Click to enlarge image.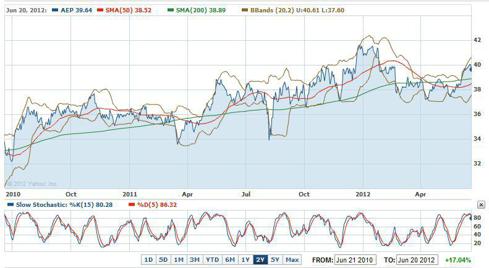 The slow stochastic sub chart shows that AEP is overbought. The main chart shows that the 50-day SMA seems to have turned up toward the 200-day SMA. The price line is already far above the 200-day SMA. This may be positive for AEP. On the other hand the economic situation in the EU and around the world seems to be deteriorating. Averaging in is a good idea.
AEP's current P/E of 9.69 and dividend of 4.74% compare favorably to other large, successful utilities such as Consolidated Edison (NYSE:ED) with a P/E of 17.98 and a dividend of 3.90%, the Southern Company (NYSE:SO) with a P/E of 18.97 and a dividend of 4.10%, and Duke Energy (NYSE:DUK) with a P/E of 20.63 and a dividend of 4.30%. Large cap (stable), good dividend paying electricity utilities are often a good way to ride out hard times. The use of electricity is relatively inelastic in the U.S. There is a slow, constant, secular growth trend firmly in place long term.
Please note: Much of the fundamental fiscal data not provided by AEP is from Yahoo Finance.
Disclosure:
I have no positions in any stocks mentioned, but may initiate a long position in AEP over the next 72 hours.