Executive Summary
The 2007 financial crisis took its toll on the Mortgage Insurance Industry (MII), causing a significant drop in the prices of all mortgage insurer stocks. The outlook for the Mortgage Insurance Industry continues to remain negative and most of the companies are expected to report operating losses well into 2013. MGIC Investment Corp. (NYSE:MTG), owing to its liquidity constraints, has a limited share price upside. However, there are companies in the industry that are expected to bring a turnaround in their profitability. Radian Group Inc. (NYSE:RDN), we view, is one such company and we propose a long position on it.
Mortgage Insurance Industry Introduction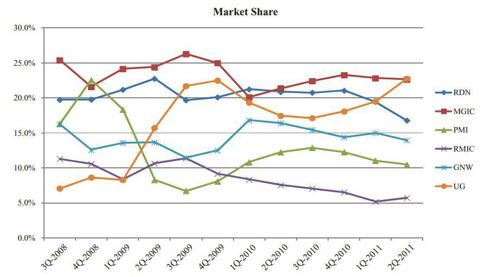 The industry is divided into two parts; public mortgage insurers and private mortgage insurers (PMI). The U.S. government, through the Federal Housing Administration (FHA), is currently the largest provider of mortgage insurance coverage, followed by PMIs; Radian Group Inc, MGIC Investment Corp. and American International Group (NYSE:AIG).
While PMIs compete against the FHA, Fannie Mae and Freddie Mac provide them with lifeblood. Fannie Mae and Freddie Mac's government charters require insurance coverage on loans of more than 80 percent of home values.
The MII is closely linked to the Housing Industry, and the housing market is beginning to show signs of improvement. Fannie Mae Chief Economist Doug Duncan said, "Despite the loss of momentum as we move through the spring months, we expect that home sales will rise slightly more than 7 percent during 2012."
Mortgage Insurance Companies of America (MICA) reported primary new insurance dollar volume written on newly originated conventional mortgage loans totaling $7,109.4mn in April, which improved by 5.6% from March 2012. Risk-to-capital ratios for the industry have risen and reached an average of 25x resulting in capital contributions or the need for waivers.
"Our outlook is bolstered by improvements in consumer sentiment seen in our National Housing Survey results, which show that consumer views of the housing market conditions have become more supportive of home purchases and their outlook on home prices. Interestingly, we're seeing a pick up from depressed levels in the 'good time to sell' category, suggesting rising optimism about the housing market," Duncan claimed.
Mortgage Industry Drivers
· Unemployment: When people lose their jobs, they can't pay their mortgages. Unemployment rate is down by 0.6% over the past six months; long-term jobless rate is down by 0.5%.
· Home prices: If home prices fall and the value of a home is less than the value of the mortgage, people cannot sell the property and walk away.
· Home sales: Forecasts of 4.6 to 4.7 million existing home sales in 2012.
· Low mortgage rates: They have fueled the refinancing craze. Fixed mortgage rates have reached record lows for the sixth consecutive week. Mortgage interest rates are projected to rise gradually and then at an average of 4.9 percent in 2013.
· Government policy on refinancing, put-back fears and elimination of tax deduction: The Home Affordable Refinance Program (HARP) and the Home Affordable Modification Program (HAMP) have enabled underwater mortgages to be refinanced. HARP allows only qualified borrowers to refinance a loan that is underwater from 105% to as high as 125%. HAMP allows even borrowers who have missed payments to refinance upon demonstration of financial hardship. Lenders have restricted credit facility due to put-back fears. The government has recently released banks from these put-back fears. The expiration of mortgage insurance deductibility will hit many low-down-payment conventional loans, plus virtually all new mortgages closed this year whose down payment was less than 20%.
| | | | | | |
| --- | --- | --- | --- | --- | --- |
|   | | | | | |
| Market Cap: | 345.23M | 490.93M | 2.55B | 1.09B | 2.06B |
| Qtrly Rev Growth (yoy): | -0.73 | 0.09 | -0.06 | N/A | 0.03 |
| Revenue (NYSE:TTM): | 1.48B | 1.55B | 10.20B | 438M | 2.33B |
| Gross Margin : | 0.19 | -0.26 | 0.08 | N/A | 0.18 |
| EBITDA : | 152.90M | -306.51M | 1.06B | -83M | 152.90M |
| Operating Margin : | 0.06 | -0.26 | 0.08 | -0.21 | 0.1 |
| Net Income : | 29.91M | -471.79M | 110.00M | -35M | N/A |
| EPS : | 0.23 | -2.35 | 0.22 | -0.18 | 0.83 |
| P/E : | 11.51 | N/A | 23.59 | N/A | 12.64 |
| PEG (5 yr expected): | -0.08 | -0.3 | 1.28 | 1.84 | 1.02 |
| P/S : | 0.23 | 0.32 | 0.25 | 4.22 | 0.83 |
Radian Group Inc.
RDN seems to be a winner in the wake of a competition cutback. The company should eventually bring a turnaround in its profitability owing to improvements in its expected liquidity position, economic fundamentals and improved credit quality, along with continuing waivers in writing new businesses. Therefore our investors are advised to take a long position in RDN.
The Radian Group is a credit enhancement company with a primary strategic focus on domestic, first-lien residential mortgage insurance. RDN's business segments are mortgage insurance and financial guarantees. Its mortgage insurance segment provides credit-related insurance coverage.
New Business
During the year ended December 31, 2011, it wrote $15.5 billion of primary mortgage insurance. During 1Q2012, RDN wrote $6.5bn worth of new business. In May alone, it wrote $2.73bn worth of new insurance, a $0.1bn increase from April. RDN seems to have gained the most out of the cutback in competition after the PMI group and Old Republic stopped writing new business.
Earnings
After four years of consistent losses, RDN was able to post a bottom line figure of $302n. The group missed analyst estimates of earnings by $25mn. The average EPS estimate of analysts was -$0.55; however, RND posted an EPS of -$1.44. Gross margin for 1Q2012 was -63.1%, worse than the prior year's quarter. Similarly, an operating margin of -90.9% was worse than the prior year's quarter. Resultantly, the net margin was -93.8%. Net profit margin, like the rest of the margins, remained below that of the prior year's quarter.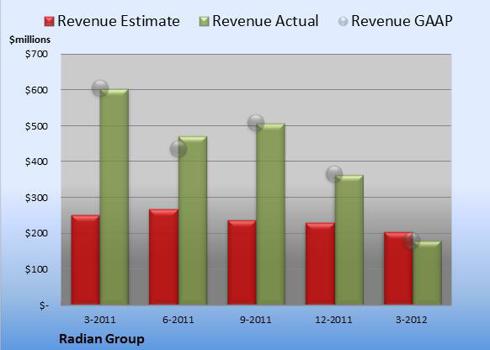 Liquidity
RDN had $363.7mn cash available by the end of March this year, compared to $482.8mn by December 2011. The decrease can primarily be associated to the tender offer for a portion of their 5.625% senior notes due February 2013. We believe Radian has adequate resources to either redeem the outstanding debt of $104mn due 2013 by retiring the debt or through a tender offer when it becomes due in 12 months.
Book Value
A 14% decrease was witnessed in the book value for this quarter, resulting in the figure of $7.61. This can largely be attributed to reported GAAP losses.
Outlook
Going forward, RDN is expected to post a loss per share of $0.46 on a turnover of $216mn. The company's risk-to-capital ratio decreased by 0.9x from the first quarter. However, analysts are also of the view that RDN's risk-to-capital ratio would exceed beyond 25x in 2Q2012. They also expect it would be granted with a waiver in order to operate at 30x risk-to-capital ratio. Under Credit Suisse's base case, the stock is expected to generate cash of $504mn and $195mn for 2012 and 2013 respectively. It is also anticipated that the 2012 credit quality for RDN would improve owing largely to seasonal benefits.
MGIC Investment Corp.
As of March 31, 2012, MTG's preliminary risk-to-capital ratio was 20.3-to-1. We currently expect MGIC's risk-to-capital to exceed 25-to-1 in the second half of 2012. Credit Suisse has decreased its 2012 earnings estimates from MTG to -$2.8 from -$1.8. Regulatory capital requirements may prevent MTG from continuing to write new insurance on an uninterrupted basis. Continued a deficiency in liquidity, coupled with increasing losses, are matters of concern for the company. We have a negative outlook for the stock owing to these factors.
MTG provides a private market alternative to the federal government insurance programs. As of March 31, 2012, MTG's primary insurance in force was $169.0 billion, compared with $172.9 billion as at December 31, 2011.
New Business
$4.2 billion worth of new insurance was written in the first quarter, compared to $3 billion in 1Q2011. In addition to that, $1.3bn of insurance that is not included in the new insurance written total was also written. In May alone, new business surged by $300mn, from the previous month, to reach $2bn.
Earnings
Earnings for 1Q2012 were lower when compared to the same period in 2011, largely due to a decrease in their average invested assets. It reported a net loss for the quarter ending March 31, 2012 of $19.6 million, compared with a net loss of $33.7 million for the same quarter a year ago. Diluted loss per share was $0.10 for the quarter ending March 31, 2012, compared to diluted loss per share of $0.17 for the same quarter a year ago.
Reserves
Total reserves fell to 4.2bn in the first quarter, showing a decline of $349mn.
Liquidity
As of March 31, 2012, MTG had $490 million in cash and investments, and their debt obligations were $906 million. They need to make further payments of $171mn in 2015 on a Senior Note of 5.375% and $345mn in November 2017 on a convertible senior note. The company does not have any other source of cash inflow other than investment income.
Losses
Losses incurred in Q1 were $337.1 million, up from $310.4 million reported for the same period last year, primarily due to a modest increase in the claim rate.
Defaults
The total defaults for May decreased by 1.1%. This decrease is less than the 1.8% decreased in RDN's defaults.
Genworth Financial Inc. (NYSE:GNW)
GNW provides insurance, wealth management, investment and financial solutions. As of December 31, 2011, the company had more than 15 million customers, with a presence in more than 25 countries. The company operates in three divisions: Insurance and Wealth Management, Mortgage Insurance and Corporate and Runoff. The company's net profit margin remained 1.08%. It offered a 4.2% dividend yield over the past five years, however, the last time it paid a dividend was in 2008. The company has an operating cash flow and levered free cash flow of $2.66bn and $1.88bn respectively.
MBIA Inc. (NYSE:MBI)
MBIA Inc. operates financial guarantee insurance businesses in the industry and is a provider of Asset Management Advisory Services. These activities are managed through three business segments: United States Public Finance Insurance, Structured Finance and International Insurance, and Advisory Services. Net profit margin of the company remained -8%. It offered a 9.20% dividend yield over the past five years and has an operating cash flow of $2.66bn.
Disclosure: I have no positions in any stocks mentioned, and no plans to initiate any positions within the next 72 hours.