Vaalco Energy (NYSE:EGY) will report year-end results next week. Depending on how Vaalco accounts for the North Sea dry hole announced in January (.pdf warning), either 2007Q4 or 2008Q1 will bear the write-off. Regardless of the accounting, the long-term investment story is only minimally affected. At current oil prices, Vaalco is generating exceptionally strong cash flows and setting itself up to internally fund major activities in Gabon, Angola, and a new North Sea farm-in. Net cash as of the end of November was $100M ($105M cash - $5M debt), up from $75M only two months earlier.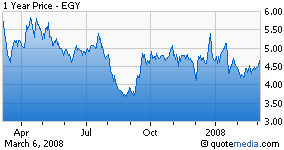 At the current run-rate, net cash should be approaching $120M, excluding any recent capex or timing issues in the working capital accounts. Of course, cash and cash flow have not been the issues with Vaalco – reserve life has. Vaalco ended 2006 with proved reserves of 6 million barrels and annual production approaching 2 million barrels, i.e., an R/P ratio of 3x. Next week Vaalco is likely to report that because of field extensions, revisions, price increases, etc., proved reserves are unchanged at about 6M bbl, meaning that 100% of 2007 production was replaced by new proved reserves in the Etame concession at very low cost. 2P reserves (if reported) are likely to be around 12 million barrels. With Ebouri production scheduled to start later this year, additional 2P and 3P reserves will move into the 1P and 2P categories. The after-tax PV10 on the 1P proved reserves at constant prices and costs is likely to be about $145M, with after-tax PV10 on the 2P reserves in the $250M range. These are very strong values for a company with an enterprise value of barely $160M.
The bottom line: Vaalco's strong cash flows give it the opportunity to internally fund a large and diverse capex program (Gabon, Angola, North Sea) and a stock buyback program while remaining free cash flow positive. Any reasonable level of success on the various prospects would more than reward patient shareholders in an undervalued, prospect-rich, cash-rich, and strongly cash flowing company.
Disclosure: Author has a long position in EGY