Shopping mall owner General Growth Properties (NYSE:GGP) is a top 10 REIT by market capitalization. However, the company was much larger than the current $16 billion before going through bankruptcy in 2009 and 2010. Currently the company is taking a measured approach to stabilize its financials and has not yet shown much growth potential coming out of the bankruptcy.
First a little history/background: The economic recession plus the financial crisis put General Growth Properties in an untenable position. By early 2009 there was of a lot of debt coming due and an inability to refinance that debt. In March 2009, the company filed for Chapter 11 bankruptcy to develop a plan to restructure its debt. Over the next year-and-a-half General Growth was able to bring in some equity partners, restructure a pile of mortgage and other debt and re-emerge from bankruptcy in November of 2010. Along the way, the company replaced most of the board of directors and selected a new CEO - Sandeep Mathrani - who was head of retail for Vornado Realty Trust (NYSE:VNO). Also in November 2010, General Growth Properties spun-off most of the non-shopping center assets into a new company focused on property development - Howard Hughes Corp. (NYSE:HHC).
With a fresh start going into 2011, General Growth Properties set an initial dividend rate for the 2011 first quarter of 10 cents per share quarterly. The dime per quarter has now been paid for 5 consecutive quarters. For the 2011 first quarter, the company reported core funds from operations - FFO - of 22 cents per share. For the remaining quarters of 2011, the core FFO amounts were 20 cents, 23 cents and 29 cents, respectively. In the first quarter of 2012, General Growth Properties spun off 30 non-Class A shopping centers into a new REIT - Rouse Properties, Inc. (NYSE:RSE). As a result of the spin-off, core FFO for the first quarter was 22 cents per share for General Growth Properties. Management forecast full year core FFO to be about 95 cents per share.
Since emerging from bankruptcy, the General Growth Properties management has been focused on leasing or re-leasing space in existing properties and where possible re-financing mortgage loans to a better rate. Over 2011 and 2012, about $6 billion of debt was or will be refinanced. Debt to value ratios are targeted at 50% to 60%. On a recent presentation, the company stated it had identified $1.5 billion worth of redevelopment and expansion opportunities in the portfolio of properties. General Growth Properties currently wholly or partially owns 150 regional malls - 135 in the U.S. and 15 in Brazil, of which 85 are counted as Class A properties. The Class A malls account for 77% of General Growth Properties' net operating income.
At this point in time, General Growth Properties is not a compelling investment compared to a retail properties growth machine like Simon Property Group (NYSE:SPG). The 10 cent dividend provides a current yield of just 2.3%. There is room in the current level of FFO to increase the dividend by 50% or more, but the FFO is not yet growing at a pace to support continued dividend growth. In contrast, Simon Property Group is increasing its dividend every quarter just to keep up with the REIT income distribution requirements.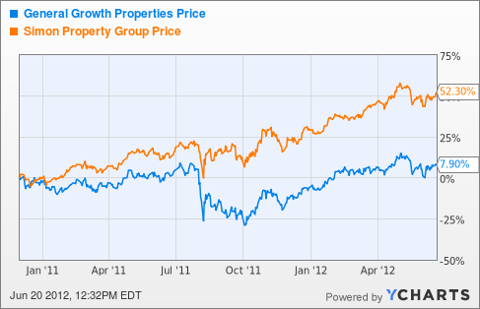 Recommended Additional Reading: Best In Class REIT: Simon Property Group Continues To Grow
Disclosure: I have no positions in any stocks mentioned, and no plans to initiate any positions within the next 72 hours.