Select Sector SPDRs are a great way to increase diversity while lowering risk. High volume and low expense ratios make them some of the most attractive ETFs in the market. The Technology Select Sector SPDR Fund (NYSEARCA:XLK) is very popular with over 1.5 million shares traded daily and a low expense ratio of 0.18%. Let's look at the industry allocations, top holdings and key statistics as well as other benefits gained from playing technology through the XLK.
Diversification
(click to enlarge)(courtesy of SPDRs.com)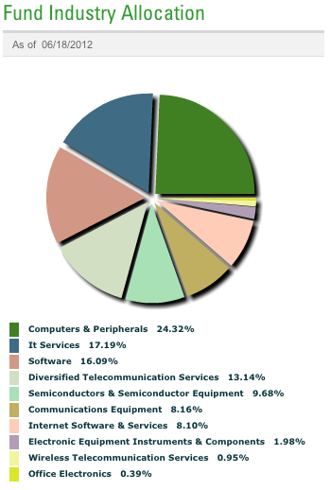 Click to enlarge
It is important to note that some investors have a narrow view of diversification. I have heard comments such as, "I diversified my portfolio with a 20% weighting in technology." Delving deeper I find that all 20% is in a single industry. Diversification not only in general sectors but in industries as well further increases the benefits. The XLK is well diversified. There is no industry weighting over 25%, and their largest holding, Computers & Peripherals, is mostly inflated due to Apple (NASDAQ:AAPL). The rest is a nice blend of different industries spanning the technology sector.
Diversification is more important for technology as opposed to consumer staples or utilities because industries in the technology sector are subject to more risks. Semiconductors, software and electronic equipment instruments experience swings due to a number of factors like rising commodity costs, low demand, and copyright issues. Internet companies are trendy and unpredictable. This diversification limits exposure should a particular industry experience a decline.
Top Holdings (courtesy of SPDRs.com)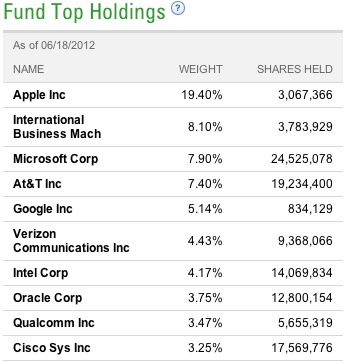 The first thing of note is Apple's large weighting in the XLK. This can be viewed as positive or negative. For investors wanting to have some exposure to Apple this is a great way to be invested. On the contrary, a high weighting in one company creates increased risk for the fund should Apple decline. While the company has recently experienced a meteoric rise, its legendary cash hoard, high earnings, and zero debt testify to Apple's ability to grow, or at least hold its ground.
International Business Machines Corp. (NYSE:IBM) has also been doing well as of late. While its fundamentals are not as solid as Apple's, it is in great financial strength with some extra cash, but not too much to waste on non-profitable acquisitions. And watching Watson crush Ken Jennings on Jeopardy was very impressive.
Microsoft (NASDAQ:MSFT), one of my favorite companies, has a healthy fund weighting of 7.9%. Consistent growth in earnings, dividends, cash flow, and revenue along with $60 billion in cash show its financial strength and ability to increase fundamentals year over year. With Windows 8 on the horizon there are many reasons to invest in this great company.
AT&T (NYSE:T), the fund's largest telecom holding, has experienced a growth spurt after several years of dormancy. Its high yield attracts income oriented investors, but capital gains has been the largest payoff recently. For investors worried about Verizon's (NYSE:VZ) increasing competition, do not fret. Verizon is in the fund as well with a 4.4% weighting. This creates a competition hedge for these two telecom giants, as well as allowing the possibility for growth in both companies. I have heard rumors of a telecom bubble but the overall exposure to the industry is 13%, softening the blow should this bubble turn out to be true.
Google.com (NASDAQ:GOOG) is the most stable internet company in my opinion. Facebook (NASDAQ:FB), Zynga (NASDAQ:ZNGA), Pandora (NYSE:P), Groupon (NASDAQ:GRPN) and similar web companies are trendy and can turn on a dime when the next fad comes. As the hype for these companies (Facebook) wane the stock price will follow along with the P/E ratio. Also, the dot com bubble is still fresh in my mind. One of the few internet companies that I view as providing a crucial service is Google. Everything I buy on the internet starts with a Google search. If I cannot find a store on Google maps I will not go, as I see it as a sign of weakness. Tons of cash, low debt, and a realistic five year earnings expectation of $72 a share make this one of the most solid internet companies on the market.
Intel (NASDAQ:INTC) and Oracle (NASDAQ:ORCL) have similar stories. Cash stockpiles, solid financial strength and a good hold on their respective markets make these companies solid additions to the fund.
Qualcomm (NASDAQ:QCOM) has been experiencing growth over the last several years, mostly due to its ability to produce increasing earnings. QCOM also sells its chips to Apple, giving more exposure to APPL for those who want it.
Cisco (NASDAQ:CSCO) is the only company I do not feel great about in the top ten. This is not necessarily due to anything wrong with the company, but it has simply fallen out of favor with the general market. Shares have been on a wild ride for a long time and it just cannot seem to stabilize. Hopefully last quarter's record earnings will be the boost that Cisco needs to get out of its funk. Other than that it has over half of its market cap in cash, solid earnings and a recently issued dividend. If investors focus more on these impressive fundamentals Cisco may experience significant gains.
Some other companies in the fund worth noting are Visa (NYSE:V), Mastercard (NYSE:MA), Salesforce (NYSE:CRM), Paychex (NASDAQ:PAYX) and a handful of other companies with lower than a 0.3% weighting.
Pricing
Finding an entry point on the XLK is difficult especially for impatient investors not wanting to miss out on the latest fad.
(click to enlarge)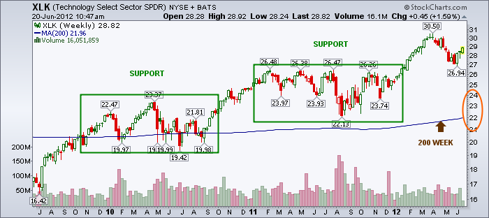 Click to enlarge
The XLK seems to revert to the 200 week moving average somewhat regularly making it a good entry point. For those fortunate to be in pay-per-share accounts breaking up your position into fifths or more buying a little bit at a time to average your cost basis may be the best option. It is also very important to note that the Nasdaq usually drops faster than the S&P. If we experience a sell-off the XLK can decline significantly as it did in 2009. Because of this, dollar-cost averaging is most likely the appropriate method to limit losses and increase gains.
Conclusion
The XLK is a great way to enter into the technology sector and gain exposure to many different industries. Its top holdings are solid companies with lots of cash, increasing earnings and strong financial strength.