An investor usually sells a put option if his/her outlook on the underlying security is bullish. The buyer of the put option pays the seller a premium for the right to sell the shares at an agreed-upon price. If the stock does not trade at or below the agreed-upon price (strike price), the seller gets to keep the premium.
Benefits associated with selling puts
It allows one to generate income in a neutral or rising market.
Acquiring stocks via short puts is a widely used strategy by many retail traders and is considered to be one of the most conservative option strategies. This strategy is very similar to the covered call strategy.
The safest option is to make sure the put is "cash secured." This simply means that you have enough cash in the account to purchase that specific stock if it trades below the strike price. Your final price would be a tad bit lower when you add the premium you were paid up front into the equation. For example, if you sold a put at a strike of 20 with two months of time left on it for $2.50; $250 per contract would be deposited in your account.
Most put options expire worthless and time is on your side. Every day you profit via time decay as long as the stock price does not drop significantly. In the event it does drop below the strike you sold the put at; you get to buy a stock you like at the price you wanted. Time decay is the greatest in the front month.
Reasons to be bullish on Corning Inc (NYSE:GLW)
A five-year dividend growth rate of 4.9%
A free cash flow yield of 5.45%
A projected 3-5 year EPS growth rate of 8.5%
A low payout ratio of 16%
An excellent retention ratio of 84%
Profit margin of 31.9%
A five-year sales growth rate of 7%
A low long-term debt to equity ratio of 0.15
Year over year projected growth rate of 13.5% in 2013.
A splendid current ratio of 5.5
A great quick ratio of 3.67
A very good interest coverage ratio of 36.7
Net income increased from $2 billion in 2009 to $2.8 billion in 2011.
Cash flow increased from $1.87 in 2009 to $2.38 in 2011.
Annual EPS before NRI increased from $1.41 in 2007 to $1.76 in 2011.
It's trading over $1.17 below book value
Sales rose from $5.3 billion in 2009 to $7.8 billion in 2011.
It recently unveiled a new flexible Glass, called "Willow Glass". It is extremely thin, versatile and rather durable in nature. It can be made as thin as 0.05 mm, which is significantly thinner than the current 0.2mm display glass.
Willow Glass has the potential to completely revolutionize the smart phone, TV, Laptop and tablet industry due to its thinness, durability and extreme flexibility. It could even replace gorilla glass, which is used on many of the above stated devices.
Due to its nature, Willow glass could be incorporated in a host of products that have yet to be invented. For example, roll up tablet computers and it may perhaps also be of use to the solar industry. If Willow Glass is embraced widely, it could provide a significant boost to the company's bottom line.
$100K invested for 10 years would have grown to $424K. If the dividends were reinvested the rate of return would have been higher.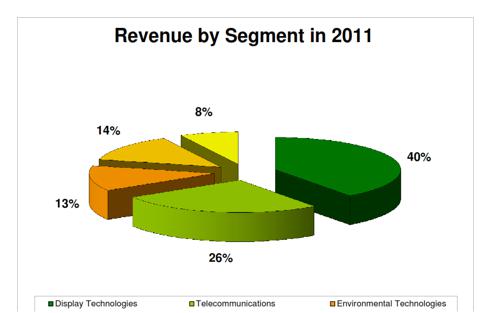 Click to enlarge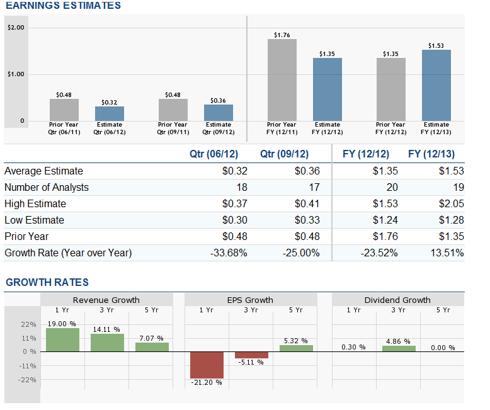 Click to enlarge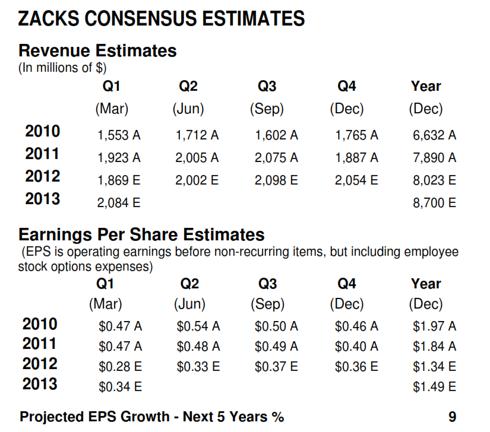 Click to enlarge
Suggested Put strategy for Corning Inc:
It has been trending sideways since December 2011 and has put in a nice channel formation and is now looking for any reason to break out. "Willow Glass" its new product is certainly a very interesting product and could provide the stock with the boost it needs to break out of the six-month channel formation.

Click to enlarge
The Jan 2013, 12.50 puts are trading in the 1.15-1.16 ranges. For this example, we will assume these puts can be sold for 1.15 or better. For each contract sold, $115 will be deposited to your account.
If the stock pulls back to the 11.50 ranges and tests its Oct 2011 lows, then sell a second lot of puts. Consider selling the Jan 2013, 11 puts. The price of these puts should be roughly on par with what the Jan 2013, 12.50 puts are now going for.
Advantages of this strategy
If the shares trade below the strike price, the shares could be assigned to your account. Your final price will be 11.35. If the puts do not trade below the strike you get to walk away with the premium for a gain of 9.2% in roughly seven months.
Disadvantages of this strategy
The shares could be assigned to your account. However, if you were bullish to begin, then this should not be an issue as you now have the chance of getting into this stock at even better price. In this example, your final cost would work out to $11.35 per share.
Conclusion
The markets are still in a corrective phase and there is a decent chance that this stock could test its recent lows again before trending higher. A weekly close above 14.50 can be viewed as bullish development. The great thing about selling puts on stocks you are bullish on is that you get in at a lower price or you get paid for waiting. Investors looking for other ideas might find this article to be of interest Reasons To Be Bullish On Kodiak Oil & Gas
Disclaimer
It is imperative that you do your due diligence and then determine if the above strategy meets with your risk tolerance levels. The Latin maxim caveat emptor applies-let the buyer beware
Disclosure: I have no positions in any stocks mentioned, and no plans to initiate any positions within the next 72 hours.
Additional disclosure: EPS and Price Vs industry charts obtained from zacks.com. A major portion of the historical data used in this article was obtained from zacks.com. Options tables sourced from money.msn.com. Earnings and growth estimates sourced from dailyfinance.com. Revenue by segment pie chart sourced from zacks.com. We might sell puts over the next 3-5 trading days.