Commercial Metals Company (NYSE:CMC) engages in recycling, manufacturing, fabricating, and distributing steel and metal products, and related materials and services in the United States and internationally. The company processes scrap metals for use as a raw material by manufacturers of new metal products through 33 scrap metal processing facilities to steel mills and foundries, aluminum sheet and ingot manufacturers, brass and bronze ingot makers, copper refineries and mills, secondary lead smelters, specialty steel mills, high temperature alloy manufacturers, and other consumers.
It is scheduled to report its Q3 2012 results on June 27, 2012, before the market opens.
Technical Overview
Key Metrics
Market Cap: 1.42B
52-week trading range: 8.64 - 16.48
Trailing P/E: 27.25
Forward P/E: 6.94
Price/Sales: 0.17
Price/Book: 1.14
PEG Ratio: 1.58
Total Debt: 1.39B
Annual dividend yield: 3.90%
Return on Equity: 3.44%
Return on Assets: 3.19%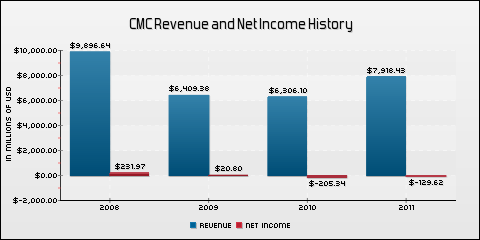 Recent EPS Actuals vs. Estimates
The company has met or beaten analysts' estimates in the last four quarters. In the last quarter it reported $0.24 EPS, beating analyst estimates of $0.09.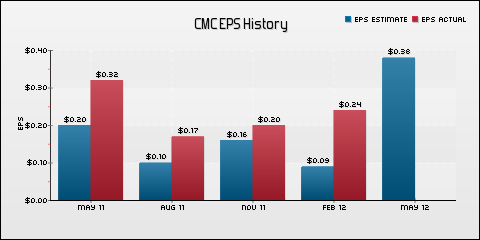 The consensus EPS is $0.38 based on 11 analysts' estimates, up from $0.32 a year ago. Revenue estimates are $2.14B, up from $2.08B a year ago. The median target price by analysts for the stock is $16.00.
Average recommendation: Overweight
Source: Marketwatch
Latest Developments
On June 13, 2012, Commercial Metals Company announced today the completion of the sale to an undisclosed and unaffiliated third-party of the assets related to the welded pipe mill and seamless pipe mill of CMC's former Croatian Pipe Mill and wholly-owned subsidiary, CMC Sisak d.o.o., for a total consideration of U.S. $6,650,000.
On June 4, 2012, Commercial Metals Company announced the completion of the sale of Croatian Pipe Mill and wholly owned subsidiary, CMC Sisak, d.o.o. (CMC Sisak), pursuant to a definitive purchase agreement whereby CMC sold all of the outstanding shares of CMC Sisak to the Danieli Group - Steel Making Division by the Danieli holding company, Industrielle Beteiligung SA (Danieli).
Competitors
Commercial Metals Company operates in Steel & Iron industry. The company could be compared to Nucor Corporation (NYSE:NUE), Schnitzer Steel Industries Inc. (NASDAQ:SCHN), Worthington Industries, Inc. (NYSE:WOR), and United States Steel Corp. (NYSE:X). Below is the table comparison of the most important ratios between these companies and the industry.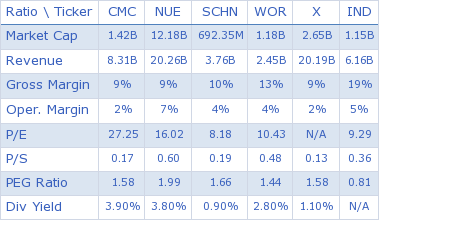 Below is the chart comparison with the stock price changes as a percentage for the selected companies and S&P 500 index for the last one year period.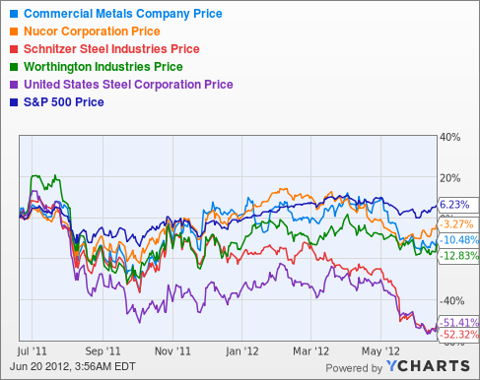 Sources: Yahoo Finance, Google Finance, Marketwatch, Finviz, Reuters.
Disclosure: I have no positions in any stocks mentioned, and no plans to initiate any positions within the next 72 hours.