By Mark Bern, CPA CFA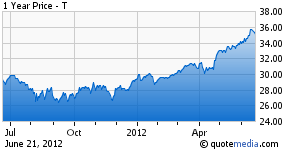 We have twice sold puts on AT&T (NYSE:T) but we haven't yet been put the stock. But, then again, we have gains of over 18 percent on our cash used to secure the puts in just eight months without owning the stock. There is time left on the current position, but we have already earned 80 percent of the potential total for this trade and even though there are seven months remaining on the contract I have decided to take the profits now rather than keeping our money tied up for such a low yield available through the expiration date.
Recall from my first article on T that the stock price was $28.44 (all prices and premiums quoted from the first article are as of the market close on October 7, 2011) while the premium on the January 2012 $26 strike Put was $0.80. We collected $80 ($0.80 x 100) on the one contract that we sold, but we also paid a commission of $9 (an assumed amount that is about the average of discount brokerage premiums; you can do better if you shop around). That leaves us will $0.71 net of commissions which represents a return of 2.5 percent for 105 days (expiration was January 20, 2012). If you annualized that return (using the method I explained in my original article in this series; link provided at the end of this article) you would come up with about 10 percent without owning any stock. Then, on December 14, 2011, since the premium was already down to $0.11 we bought the put option contract back and established a new position to create a higher overall return. That is our objective: maximize our return while reducing our risk.
For those readers who may be new to this series of articles, I have published an instablog that includes links to all of the previous articles published from this series, including summary articles that show how we have done relative to a straight buy-and-hold portfolio and the S&P Index. Now, for the remainder of this article I will focus on updating you on T, how we have profited from T, and the next steps I proposed to take.
For those who read my first article on T from this series you will recall that I believe T to be a well-managed company with a great dividend and adequate potential over the long-term. I also believe that T provides us with less downside risk as well. And that may be an important factor in the crazy marketplace we face today. I like T as a great investment for the long-term. I find its stock to be more resistant to loss and more resilient than the broader market indexes. As an example, when the S&P 500 was down about 57 percent from its 2007 peak to its 2009 trough, T was down only 34 percent. And while the S&P 500 is still below its 2007 peak of 1576 by about 15 percent, owners of T have collected $7.91 in dividends over that same time. If we add together the dividends and the current price we find that long-term owners of T are ahead of where they were at the top in 2007. T has raised its dividend for 28 consecutive years and I believe that T's leadership will continue to raise dividends every year into the future.
In the December 2011 article we sold the January 2013 $27.50 strike put option and collected a premium of $2.74. After the commission we were left with a return of 9.1 percent, or 8.4 percent on an annualized basis. This may not the best return on cash, but if we been put the stock our cost basis would have been $24.76. I would really like to own T at that price even if the market goes back down to its 2009 lows because, in the end, we would collect those dividends (at what would be a yield of 6.95 percent on the lower cost) and own a great stock that should perform well against the broader market giving us excellent appreciation potential as well. But now, after less than half of the contract duration, we see that the premium has again dropped significantly and reduced our potential return going forward. Thus, I believe it is time to buy back our position and take the 80 percent of the gain we had anticipated early. We can buy back the position for a premium of $0.50 (as of 2 p.m. on Thursday, June 21, 2012) plus another commission of $9.00. What we end up with is a gain of $208 after all commissions ($276 - $9 - $9 - $50) for a return of 7.56 percent over six months or an annualized return of 15.1 percent. At this point I think it is best to wait for another dip in T's price to establish another position.
Until then, I always enjoy the comments and will try my best to answer questions if readers will take the time post them. If you are a new reader and are confused about what strategy I keep referring to please see the first article in the series for a primer.
Disclosure: I am long T.