A comment on my most recent closed-end fund article asked about the types of CEFs owned by the PowerShares CEF Income Composite Portfolio ETF (NYSEARCA:PCEF). I checked and PCEF divides its holdings into bond CEFs, bond/high yield CEFs and option income funds. My database of closed-end funds includes four which fall into the option income classification. Note: I track and watch closed-end funds with more than $250 million of assets.
The PowerShares CEF fund currently yields 7.4% and the yields on the option income CEFs all carry double-digit yields. Let us take a look to see if the closed-end funds in this group provide investment potential to go along with those yields. Fund data sourced from the Closed-End Fund Association - CEFA - online database.
NFJ Dividend Interest & Premium Strategy Fund (NYSE:NFJ) This fund divides its portfolio 75% into dividend paying stocks and 25% into convertible securities. Income is enhanced by selling call options on equity indexes. NFJ has a current distribution yield of 11.1% and the shares are trading at a 4.9% discount to NAV. This fund does not use leverage and has a total expense ratio of 0.97%.
ING Global Equity Dividend and Premium Opportunity Fund (NYSE:IGD) This CEF invests in a global portfolio of dividend paying stocks and writes call options against equity indexes or individual stocks in the portfolio. The fund may hedge against currency fluctuations. IDG currently yields 12.8% and trades at a 6.6% discount to NAV. The fund does not use leverage and the expense ratio is 1.14%.
BlackRock Enhanced Capital and Income Fund (NYSE:CII) This fund holds a diversified portfolio of U.S. stocks and sells call options against 60% to 70% of the portfolio. The current distribution yield for CII is 11.4% and shares are at an 8.6% discount to NAV. No leverage is used by the fund and the expense ratio is 0.93%.
PIMCO Global StocksPLUS & Income Fund (NYSE:PGP) This fund buys S&P 500 and MSCI EAFE futures for equity exposure, holds the bulk of the portfolio in short-term bonds and sells equity index options for income. PGP has a distribution yield of 10.9% and shares are at a 77% premium to NAV. Currently the fund is 47% leveraged and expenses are 2.71%. The expenses for leveraged funds typically includes the interest on the leverage borrowings.
Before I go into a little more analysis, I want to point out that the PIMCO fund actually works. The fund has been in existence since 2005, has not blown up and has paid a pile of dividends to investors. It seems to always trade at a premium to NAV, typically around 60% since coming out of the 2008-2009 bear market.
These option income funds are most effective in choppy or slowly rising markets - just like if you set up your own covered call trades. In a bear market these funds will fall as hard or harder than the overall stock market and the dividends will probably be significantly reduced. To compare the fund returns since the market came out of the bear market, I compared share price returns since the start of 2010. The performances from worst to best were IDG: -29%, CII: -19%, NFJ: +10% and PGP: +12%. Over the same time frame the S&P 500 was up 23%.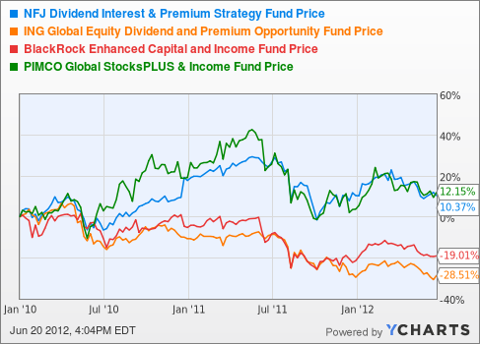 It is apparent from these results that portfolio management makes a difference when implementing an option income strategy. The PIMCO fund has provided impressive performance over the last two years, but the share price premium seems excessive. Watching this fund for some compression in the premium may lead to better buying opportunities. The NFJ fund has performance similar to the PIMCO fund without the leverage or premium. Investors looking for a high-yield alternative with some stock market exposure may be well served by the NFJ Dividend Interest & Premium Strategy Fund.

Disclosure: I have no positions in any stocks mentioned, and no plans to initiate any positions within the next 72 hours.