Hewlett-Packard (NYSE:HPQ) stock price has been in a downward trend since 2010 and is presently below the minimum of $25.39 reached during the subprime crisis. The trend on the stock price is reflecting the evolution on revenue growth as you can see on the chart below.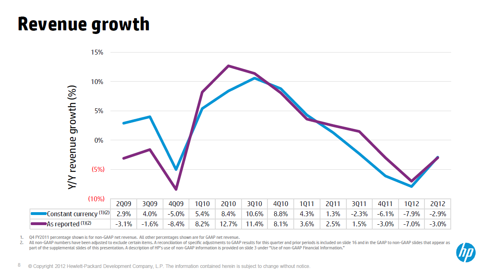 Click to enlarge
For a better understanding the sales structure, I'm presenting a table with the company's segments and the respective weight and margins. For the major segments I've also provided the principal sub segment and its one year growth, with the intention of showing that these four sub segments represent 50% of sales. As you can see the fall on the market price has been justified but it may have gone too far. The introduction of tablets into the market is causing a lower demand of notebooks, having a significant impact on HPQ's major sub segment.

Click to enlarge
When evaluating a hardware company we must take into consideration the product's live cycle and its loyalty/dependence. In this case, the majority of products has a live cycle around three years, but notice there are some issues that cause a certain level of dependence when the costumers are renewing their hardware.
Just imagine, you have a company with a networking platform composed by HPQ servers, when you're renewing this platform and some of the hardware can hold for another year or two, then you'll probably buy just a few servers with greater capacity and diluted this restructure in time, and obviously you'll buy from the same company because of compatibility issues. This situation causes some degree of dependence to costumers while providing suppliers like HPQ some stability in terms of sales.
When looking at HPQ's profitability we verified it has an EBITDA Margin of 12.87% and is one of the highest since 2003. Moreover, the company has always been profitable during this time and is trading with an actual PER (price to earnings ratio) of 6.5.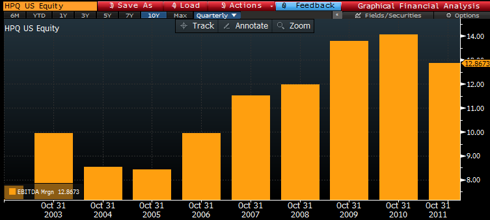 Click to enlarge
This company is very attractive and it has been consolidating at the present values for almost a month, notice the book value per share is $20.87 and the market price has made a technical support around this value.
In short, HPQ is a profitable company with an attractive PER, good margins, trading near its book value and technically has been consolidating for a while and may be preparing a rebound.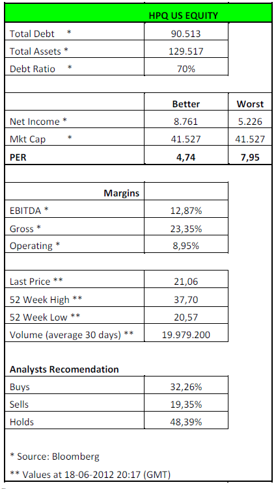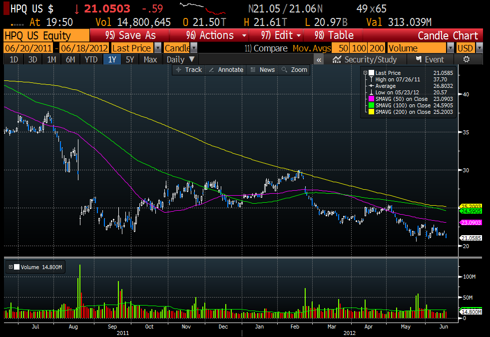 Click to enlarge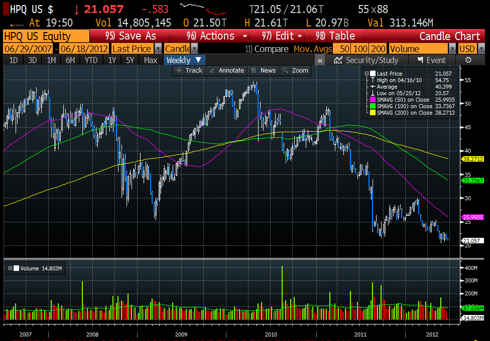 Click to enlarge
Disclosure: I am long HPQ.