With the first half of 2012 coming to a close, investors find themselves perhaps only partially through a rocky roller coaster ride. Europe has undeniably been the story of 2012 to this point, and will likely continue to steer global equity markets in the second half. So it's no surprise perhaps that there are plenty of interesting performance and volatility figures from the Europe ETFs that have become increasingly popular as trading vehicles amidst the volatility. The gaps between the strong and weak members of the euro zone have perhaps never been greater–as shown nicely below.
Though we have been living under the notion that correlations of risky asset classes have been moving towards 1.0, there is ample evidence to support a contrary viewpoint. The difference between the best and worst European ETF is massive, and even the various bond markets on the continent have delivered very different results this year.
Below, we profile three interesting ETF charts that show some surprising (and, perhaps, some expected) gaps between somewhat similar ETFs:
MSCI Germany Index Fund (NYSEARCA:EWG) vs. MSCI Spain Index Fund (NYSEARCA:EWP)
Head-to-Head: Not surprisingly, Germany has left Spain in its wake. Two of Europe's largest economies have exhibited strong correlations in 2012, but have gone in opposite directions. The chart below highlights the widening gap between the few fiscally strong countries in Europe and the weak links that make up the PIIGS bloc. While EWG is in positive territory for the year, the Spain ETF has tumbled.
click all images to enlarge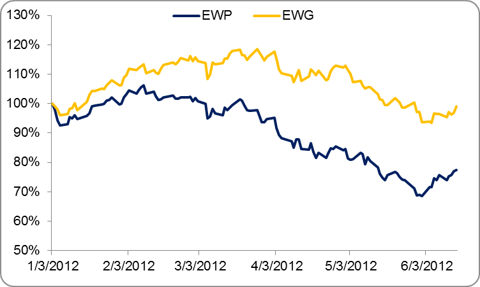 PowerShares DB Italian Treasury Bond Futures ETN (NYSEARCA:ITLY) vs. PowerShares DB German Bund Futures ETN (NYSEARCA:BUNL)
Head-to-Head: Just to show the unpredictable nature of the current environment, we're including a comparison of two ETNs that target European debt. ITLY focuses on futures contracts linked to Italian bonds, while BUND offers access to German debt markets. The chart below might be somewhat surprising; many investors probably suspected that the "flight to quality" would have battered Italian bonds and benefited German debt. But Italian bonds have actually surged in 2012, despite the lingering concerns about the fiscal viability of both Italy and the euro zone.
If anything, the chart below shows the opportunities that have been created by the back-and-forth movements in Europe; investors able to identify battered asset classes poised to rally can make some handsome returns.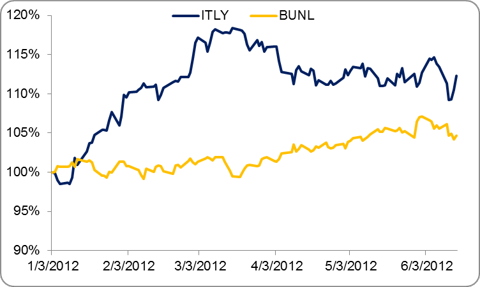 S&P 500 SPDR (NYSEARCA:SPY) vs. PowerShares S&P 500 Low Volatility Portfolio (NYSEARCA:SPLV)
Head to Head: Though SPY stormed out to a huge lead as stocks headed higher in the beginning of the year, SPLV made up a lot of ground during the sudden plunge in May. While investors playing a low volatility strategy were no doubt frustrated by the gap that emerged during the first quarter, the hectic month of May was very rewarding. Though both are comfortably in positive territory on the year, SPLV has been the better performer–a result that lends credibility to the investment thesis behind low volatility strategies.
So far in 2012, it has been slow and steady that is winning the race. What is remarkable about the chart below is the comparison between these two ETFs–which have considerable overlap of holdings–during the month of May.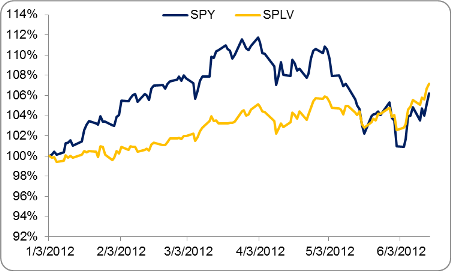 Disclosure: No positions at time of writing.
Disclaimer: ETF Database is not an investment advisor, and any content published by ETF Database does not constitute individual investment advice. The opinions offered herein are not personalized recommendations to buy, sell or hold securities. From time to time, issuers of exchange-traded products mentioned herein may place paid advertisements with ETF Database. All content on ETF Database is produced independently of any advertising relationships.