Triumph Group (NYSE:TGI) designs and constructs components and accessories for aircraft manufacturers. The stock has returned 20% on a 1-year basis, but plummeted 11% over the past 3 months primarily owing to overall equity market weakness. Trading at the mid-point of the 52-week range between $42.78 and $66.89, TGI has a market capitalization of $2.9B. At the current valuation, I believe the stock is poised for a rebound based on the following reasons:
Analysts expect top line to grow steadily at 7.2% and 6.7% over the current and next fiscal years, and EPS to rise by 5.6% and 6.2% over the same horizons. Taking the growth estimates into consideration, TGI trades at a 3-year expected PEG of 1.1x, suggesting a reasonable valuation relative to the growth prospects.
At $57.40 per share, TGI is valued at 10.3x the LTM EPS, which is at a substantial discount to the range between 14.5x and 16.7x that its industry peers are trading at. According to the chart below, the current P/E is very close to its 5-year low.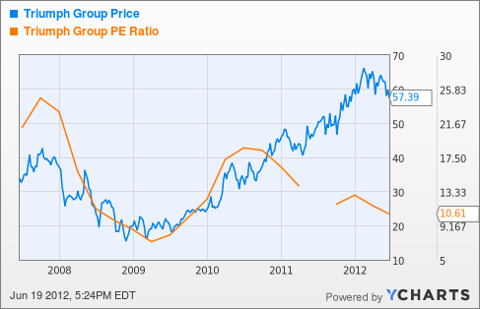 TGI data by YCharts
According to the chart below, TGI has experienced significant improvement on profitability over the past 5 years as reflected by the rising ROE and net margin trends. The firm has also generated steady free cash flows over the same period.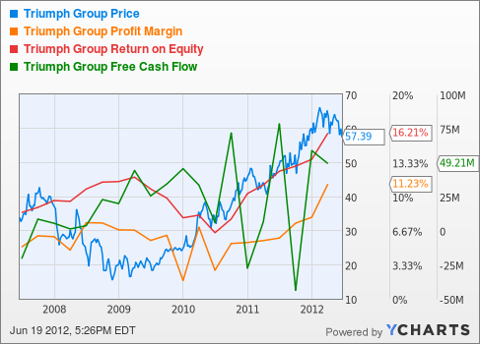 TGI data by YCharts
At a debt to total capitalization ratio of 36%, TGI's balance sheet remains solid with current ratio and LTM interest coverage ratio of 2.0x and 6.7x, respectively. The firm also generates a healthy FCF margin of 4% in the last fiscal year.
Analysts are very bullish on the stock. Of the 11 ratings, there are 4 strong buys, 6 buys, and 1 hold. The mean target price is $78.09, implying a 38% potential upside. UBS reiterated its buy rating for the stock in May and raised the target price to $74 from $70.
According to the EPS table below, the estimated EPS has multiple upward revisions over the past 90 days, reflecting analysts' growing confidence in the firm.

One insider just bought $55,483 in shares at an average cost of $55.48 in June.
Charts are sourced from YCharts, EPS table is sourced from Yahoo Finance, and financial data is sourced from company 10-Q, 10-K, press release, Yahoo Finance, YCharts, Wall Street Journal, Thomson One, Bloomberg and Morningstar.
Disclosure: I have no positions in any stocks mentioned, but may initiate a long position in TGI over the next 72 hours.