Turnaround stocks can provide lucrative returns for patient investors. I prefer to invest alongside noted turnaround activists who have been successful in righting other companies in the same industry. I also like making these investments in well-known brand names. A situation is developing at Wendy's (NYSE:WEN) that I think could richly reward long-term investors.
Positive catalysts for Wendy's include:
Noted turnaround activist Nelson Peltz has taken a large stake in the company through his primary vehicle, Trian Fund Management.
The company recently successfully completed a new credit facility, which will save the company $25 million in interest costs annually.
Janney upgraded the stock to "Buy" from "Neutral" earlier in the month.
The company should benefit from the deflationary environment that is developing, low gas prices should help consumer spending, and lower commodity prices should help margins.
According to the company's business description taken from Yahoo Finance: "The Wendy's Company operates and franchises Wendy's quick service restaurants. The company's restaurants engage in the provision of hamburger sandwiches. As of Jan. 1, 2012, it operated 6,594 restaurants, including 1,417 owned restaurants and 5,177 franchised restaurants in the United States and the United States territories, as well as in 27 foreign countries."
Here are four reasons why Wendy's provides a great bargain for speculative investors at just $4.50 a share:
The stock is selling at just 89% of book value.
The stock is selling near the bottom of its five-year valuation range based on P/S and P/B.
Wendy's has a price-to-sales ratio and operating margins that are one-third to one-half those of its bigger competitors, McDonald's (NYSE:MCD) and Yum Brands (NYSE:YUM). If it can improve both of those metrics significantly, the impact to the stock price should be substantial.
The stock has technical support at current levels (see chart below).
Click to enlarge image.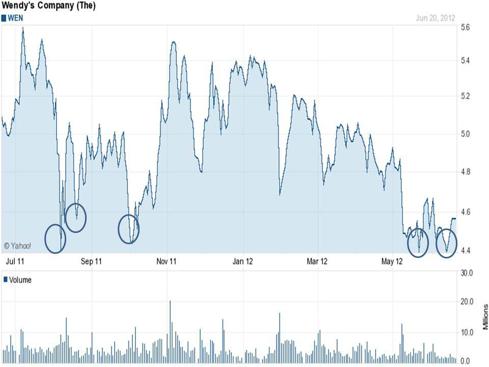 Click to enlarge
Disclosure: I have no positions in any stocks mentioned, but may initiate a long position in WEN over the next 72 hours.