Most of the silver price analysis readily available is clearly biased in one direction or the other. Bulls and bears both want to justify their positions, and continually predict that silver's about to hit the moon or drill a hole to the core of the earth.
As I established in my last silver article (Silver Forecasts: Truth Vs. Noise), I do believe the long term prospects for silver are still quite shiny. However, silver has been in a downtrend/consolidation period for quite a while now. Recent price action near the strong support level suggests that silver could be poised to either start another big leg up (like it did in Aug '10) or to take another leg down in the short term before resuming the long term uptrend.
Check out the annotated chart below [iShares SLV is used as a proxy], then read on for an overview of some of the major factors to keep an eye on over the next few months. I won't cover industrial demand and other "long term" factors -- click back to the previous article for a look at those.
(click to enlarge. Source: FreeStockCharts.com)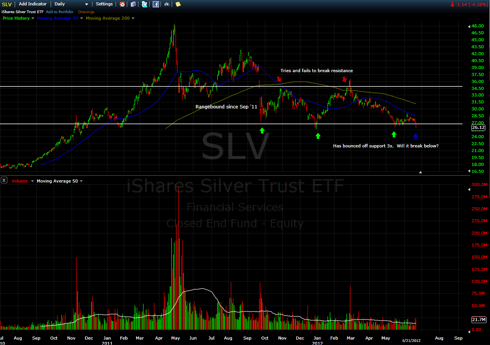 Factor 1: Monetary Policy/Euro/US Economy
The Fed's recent extension of Operation Twist was disappointing to PM bulls expecting QE3. (See: How Will Gold React To Operation Twist.) Nonetheless, investors and money managers are still betting that the flee to precious metals will continue as inflationary actions are taken worldwide. Businessweek has some interesting statistics on the actions of hedge funds:
Gold and precious-metals funds took in $747 million, he [Cameron Brandt, director of research for EPFR] said.

Wagers on higher bullion prices rose for a third week, the longest increase since February. Net-long positions climbed 1.3 percent to 99,684 contracts, the highest since May 1, CFTC data show. Bets on higher silver prices gained 12 percent to 7,312 futures and options, a six-week high.
Factor 2: Risk On/Risk Off Trading
Precious metals are a bit of a difficult category to define. While they're classically seen as a safe haven inflation hedge, they've tracked fairly strongly with stocks on a daily basis. Today, as the market fell 2%, silver tumbled 5% as traders piled into Treasuries. (Why they're doing that, I still can't understand. Treasuries aren't safe.) The market may reverse this decision tomorrow, however. Research analyst Howard Wen thinks precious metals sold off as investors tried to cover losses in stocks, similar to the margin call situations that have occurred previously.
In the near term, I believe silver may continue a flat or even downward trend. (If it breaks through the support line, another steep path down will most likely ensue.) On every whiff of bad news, investors are piling into bonds. This can't continue forever, and at some point, investors have to realize that risking capital in Treasuries for negative real yield is a horrible idea.
Factor 3: Implied Support
This factor is similar to Factor 1, but a little different. As I mentioned, silver is trading like a "risk on" asset with stocks. This means that things that negatively impact stocks (bad jobs data, fear out of Europe) will negatively impact silver in the short term. While Bernanke did not announce further easing at the recent meeting, he did state more easing is likely if the economy continues to deteriorate. Essentially, if stocks (and by proxy, silver) keep sliding, Uncle Ben has a QE solution. And we all know gold and silver love QE.
Conclusion
Caution is warranted in the silver market. If the recent dip below the long-term support line is confirmed in the next few days of trading, silver could start another leg down, and potential investors would be wise to wait to see how the market plays out. While I long silver's prospects over the next few years and I personally hold silver as a medium-term fear hedge (I'm betting on $50+ silver again in the next few years, and when it crosses a set technical threshold, I'll sell), but if I was looking to enter the market, I'd wait to buy until I saw confirmation of which direction the move will be.

Disclosure: I am long SLV.