Shares of popular VIX ETN Velocity Shares Daily 2x VIX Short-Term ETN (NASDAQ:TVIX) surged nearly 10% amid a major sell-off in the broad stock market indices on Thursday. However, investors should avoid TVIX, as the ETN is extremely risky for reasons many investors may not understand.
Click to enlarge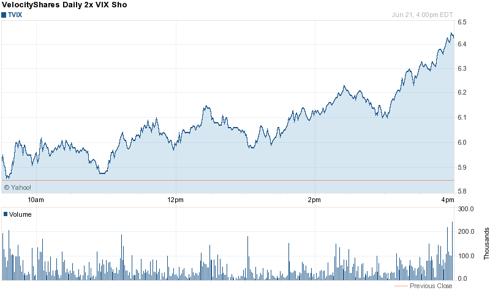 VIX Contango
One of the biggest problems with volatility ETFs and ETNs such as TVIX and other VIX vehicles such as iPath S&P 500 Short Term Futures ETN (NYSEARCA:VXX) and Pro Shares Ultra VIX Short Term Futures ETF (NYSEARCA:UVXY) is the contango in the VIX futures market. Over time, the contango leads to losses for these volatility products as the "roll" effect eats away at the NAV of the fund. A more in-depth piece on the contango effect, and one I would highly recommend reading before buying any VIX product, is available here.
Premium to Indicative Value
TVIX closed Thursday at $6.43, but the indicative value, as provided by velocity shares, is just $5.92. This means that TVIX is trading at a roughly 8% premium to what the fund is actually worth.
March 23, 2012: A Day To Remember
Investors who are currently holding TVIX should take a close look at what happened on March 23, 2012. To briefly summarize, TVIX lost half its value in just two days.
Alternatives
Instead of trading TVIX, if you want 2x exposure to the VIX, I would suggest traders look at UVXY as it is not trading at a premium to NAV. While UVXY is not trading at a premium to NAV, it is still greatly impacted by the contango in VIX futures. A better, albeit imperfect, way to bet against the stock market is to buy inverse ETFs on the broad market indices. Two inverse ETFs to consider are the Pro Shares Short S&P 500 (NYSEARCA:SH) and Pro Shares Short Dow 30 (NYSEARCA:DOG).
Disclosure: I have no positions in any stocks mentioned, and no plans to initiate any positions within the next 72 hours.