America is crumbling, and we're not talking the economy here.
The U.S. infrastructure needs upgrading worse than that old computer running Windows 98. Just a few of the problems faced by state and municipal governments are packed roads that can't handle 21st-century traffic, century-old water and sewer lines continually springing leaks, and airports lacking the long runways needed to handle the biggest jets leaping to the skies.
Even with budget shortfalls knocking on the doors of government at all levels, elected officials know they must keep the customer satisfied by paving the potholes and keeping the water and sewage flowing for consumers and businesses. Sterling Construction Company, Inc. (Nasdaq: STRL) has been lending its expertise to all sorts of public projects in the building and rebuilding of Texas and the Southwest.
Mom and Pop might suck it up and put off some of those big home improvements during the current economic downturn, but they're going to give government officials an earful if they're repeatedly sitting in traffic jams or finding a sewage backup in their basement.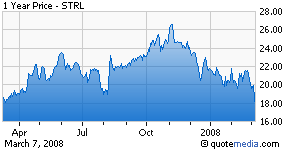 That's where Sterling Construction comes in. Primarily operating through its Texas Sterling Construction business, which traces its lineage back more than half a century, Sterling has been winning a healthy stream of contracts from state and municipal government for transportation and water infrastructure projects in the Longhorn state.
Last month, the company announced its latest deals: it was the low bidder on a $26 million road project in Collin County, Texas, north of Dallas, with completion expected in the fall of 2010, and it was the apparent low bidder on a $55 million rebuilding project for the North Texas Toll Road Authority that will continue into the summer of 2010.
Three analysts surveyed by Thomson Financial have a favorable view of Sterling Construction with either a "strong buy" or "buy" rating on the stock. The recent median 12-month price target from Thomson is $26.50. On Thursday, Sterling closed at $18.40.
Sterling Construction has a lot of territory to work in. With an area of 267,000 square miles, Texas is the largest of the contiguous U.S. states, and has 20 million residents. Sterling's hometown of Houston is the fourth-largest U.S. city. And with a recent move into Nevada, Sterling is expanding into a state of 110,000 square miles and skyrocketing growth. On Oct. 31, Sterling announced the purchase of majority interest in Road and Highway Builders of Reno in a $53 million cash-and-stock deal, which the company expects will anchor expansion into surrounding states.
While homebuilders and other pieces of the construction business are crumbling under the subprime-mortgage meltdown, it doesn't appear that Sterling has taken the same kind of hit. When its third-quarter results came out in November, Sterling reported its revenue rose 13.1% to $77.7 million, while net income decreased slightly, to $3.4 million, or $0.29 per share, compared with $3.5 million, or $0.30 a share, in the comparable 2006 period. Joe Harper, Sterling's president and chief operating officer, attributed lower-than-expected revenue growth to an unusually wet period that curtailed some work.
Where Sterling needs to do some constructive work is in building up its share price. For a few weeks in mid-2006, Sterling's stock traded in the low $30s, but in the past year, shares have traded in a range of $17.42 to $26.98 — and since the beginning of the year have stayed around $20. Nearly two-thirds of the outstanding shares are held by institutional investors and mutual funds. In late December, the company priced a secondary stock offering of 1.8 million shares at $20, which raised about $35 million.
In early December, and about a month after the company released its third-quarter results, Sterling offered up its 2008 outlook, which will reflect its Nevada acquisition: revenue of $428 million to $473 million, and net income of between $18 million and $20 million, or $1.51 to $1.68 per share.
For 2007, the company said in November that it was expecting revenues between $285 million and $310 million, net income of $13.4 million to $15 million, or earnings per share of between $1.13 and $1.26 — but at the low end of the range. When the company reports its fourth-quarter results next Friday, analysts surveyed by Thomson Financial are looking for earnings around $1.19 a share, up 10% from 2006, and a 23% increase in revenue, of around $306 million.
For the fourth quarter, the analysts surveyed by Thomson are expecting earnings per share to grow by a third from the prior year to $0.32, with revenue of $89 million, up from $64 million in the 2006 period.
In a Feb. 11 note following Sterling's highway contract win, analyst John Rogers of D.A. Davidson & Co. wrote to clients that "Texas appears to offer some of the strongest economic growth opportunities in the U.S., while Nevada appears to be slowing." Rogers has a "buy" rating on Sterling Construction, with a 12- to 18-month price target of $27 and a healthy 5-year target of $45.
Similarly, Richard Paget of Morgan Joseph has Sterling as a "buy," but cut his 12-month price target in late December following the stock offering to $28 from $32, noting at the time that he still sees some upside despite the dilution from the additional shares outstanding.
Sterling Construction (STRL) has proven a dependable player in Texas on public projects, and the expansion into Nevada could help bring healthier rewards to investors through a rising stock price and improved earnings per share.
Disclosure: none