Wow, that's quite a wallop -- the worst jobs report in 5 years:
"Payrolls fell by 63,000, the most in five years, after a revised decline of 22,000 in January, the Labor Department said today in Washington. The jobless rate declined to 4.8 percent, reflecting a shrinking labor force as some people gave up looking for work."
As mentioned earlier, any one data point is minor -- it's the overall direction that is significant. Friday's data reflects the prior trend's accelerating weakness.
~~~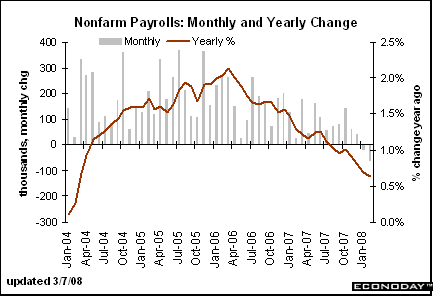 Source: Barron's Econoday
Sources:
THE EMPLOYMENT SITUATION: FEBRUARY 2008
BLS, March 7, 2008
U.S. Unexpectedly Lost 63,000 Jobs in February (Unexpectedly?!? Really?)
Shobhana Chandra
Bloomberg, March 7 2008
Jobs post biggest drop in 5 years
Chris Isidore
CNNMoney.com, March 7, 2008: 8:55 AM EST
Payrolls Declined in February, Increasing Fears of Recession
BRIAN BLACKSTONE
WSJ, March 7, 2008 9:20 a.m.