As a value investor who struggles to find growth stocks, I am always drawn to brands in their infancies. I spend a lot of time trying to understand their models, the industries, and whether they have a unique benefit that will make them a great brand. I am searching for the next McDonald's (NYSE:MCD) or the next Staples (NASDAQ:SPLS), but at a point in their development where I can buy them cheap.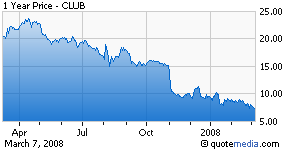 This brings me to Town Sports International (NASDAQ:CLUB). CLUB is a large fitness club operator that will have approximately 170 clubs and 486,000 members by the end of 2008. It operates in the Northeast under brand names of New York Sports Clubs, Boston Sports Clubs, Washington Sports Clubs and Philadelphia Sports Clubs.
The CLUB model is designed to be a low cost provider of services in metropolitan areas. The fitness centers are, in general, not fancy. They stress practicality and usage. They have higher traffic and fewer bells and whistles than higher end operators like Equinox or Crunch. Think of CLUB as the Wal-Mart (NYSE:WMT) of fitness while Crunch and Equinox are the Coach (NYSE:COH) and Tiffanies (NYSE:TIF) of the industry. What makes their model successful is that their lower price mass market design is coupled with the ability to access multiple clubs. Creating a cluster of fitness facilities that provide members with an expectation of what they will receive, and building a brand loyalty that will be sustainable. Just as people think of Staples for office supplies or Borders (BGP) for books, and know there is a store on most corners or at least a block or two away, members know that no matter where they move in Boston or NYC, or where their jobs lead them in these major cities, they have a Town Sports club nearby that they can access. In high density areas with large populations of renters who move from year to year, this is a distinct advantage. In addition, corporations can team with CLUB for corporate rates, knowing their employees in multiple locations can find a club near them that is convenient in many cities.
I believe this model will allow them to grow the brand to much larger heights. The mom and pop fitness clubs are ripe for consolidation. Town Sports, as a major player, can negotiate better rents, laundry fees and equipment prices. In a high fixed cost business, these incremental expenses are a key cost center that must be minimized to grow operating cash flows. Look at the past 3 years: CLUB has grown cash from ops at a 9.46% compounded rate while sales have grown at a 6.77% compounded rate in the same time frame. This is due to a 130BP drop in expenses ex depreciation in that time frame. Cost saving should also accelerate as the company gets it new laundry facility in place over the next 18 months.
Looking ahead to 2008, CLUB should generate cash from operations after cap ex required to maintain the business of $2.38 per share. This metric, to me, is important as it is a measure of the established clubs' ability to generate cash returns for the shareholders. At $2.38 per share, the company generates a 31.40% return for shareholders. I believe CLUB should trade at $15.87, as a 15% cash return on an investment for a smallcap company is appropriate.
Disclosure: Author has a long position in CLUB