Judging by the 12% bump in shares of Eldorado Gold Corp. (NYSE:EGO) on Thursday, investors think the legal problems the company is facing in Turkey are mostly over.
And there is good reason to feel that way: Eldorado re-started its Kisladag mine this week after a high court in Turkey refused to make a decision on its Environmental Impact Assessment [EIA], and passed it back to a lower court. The company had to shut the mine last year because the higher court granted an injunction.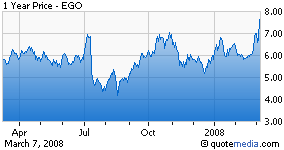 Analysts agree that Eldorado is back on the right track, and expect the stock to move higher so that the company catches up with its peers.
"We see the potential for further (gradual) share-price gains to reverse the dramatic underperformance of -32% versus the gold index since the July 2007 issuance of the temporary injunction to halt mining at Kisladag," Canaccord Adams analyst Steven Butler wrote in a note to clients. He has a "buy" rating on the stock and a target of $9.25 a share.
But of course, the legal overhang is still there. Analysts agree unanimously that there is nothing wrong with Eldorado's EIA, and that the case should eventually go away. But TD Newcrest analyst Steven Green noted that the case could remain in the court system "for some time," and work as a drag on Eldorado's stock price.
"Kisladag is a large, low-cost gold mine, which we believe would make Eldorado a prime takeover target in the absence of this court challenge," he wrote in a note. He rates the stock a "buy" rating with a target of C$9.00 a share.