In our first report on the utilities sector, we compared, analyzed and evaluated Southern Company (NYSE:SO) versus Wisconsin Energy (NYSE:WEC). We were familiar with the growth story and impeccable reputation of Southern Company and we wanted to see how a mid-cap utility that we have owned shares in for almost 15 years compared against the industry leader in the utilities sector. We concluded that as good an investment as Southern Company was, Wisconsin Energy was better.
In our next utility head-to-head report, we analyzed Exelon (NYSE:EXC) versus Wisconsin Energy. We concluded that despite the fact that Wisconsin Energy is not as well known to investors as Exelon, the little known utility which is headquartered in the backyard of one of America's most hated men strongly outperforms the large, lumbering, well-known, politically connected Chicagoland utility.
In this report, we will compare Duke Energy (NYSE:DUK), another blue-chip utility that we have respect for against Wisconsin Energy. We first heard of both these companies from Charles Carlson's book No Load Stocks, which showed investors how to buy stocks directly from a company or its shareholder services transfer agent without paying brokerage fees.
Duke Energy Corporation: Duke Energy is an industry leading multistate utility holding: Upon its merger with Progress Energy Corporation (PGN), Duke will be the most valuable utility in the world by market cap. Duke operates in three business units, U.S. Franchised Electric and Gas (USFE&G), Commercial Power and International Energy.
USFE&G is Duke's regulated utility business. It generates and distributes electricity and natural gas in North Carolina, South Carolina, Indiana, Ohio and Northern Kentucky.
Commercial Power is Duke's competitive power generation business. It owns, operates and manages power plants. It engages in the wholesale marketing and procurement of electric power, fuel and emissions allowances related to these plants.
International Energy operates and manages power facilities and engages in sales and marketing of electric power, natural gas, and natural gas liquids outside the U.S.
An investment in Duke Power on May 9th, 2005 (when it announced its Cinergy acquisition) would have generated a total return of 96% as of June 15th, 2012, easily outpacing the S&P 500 and the S&P 500 Utilities sector (NYSEARCA:XLU) during this time period, but it would have dramatically underperformed Wisconsin Energy .
Wisconsin Energy Corporation : Wisconsin Energy Corporation traces its roots back to the Milwaukee Electric Railway and Light Company, which was formed in 1896 to provide electric, steam and interurban rail service. The company changed its name to Wisconsin Electric in 1938 and purchased Wisconsin Gas & Electric and Wisconsin Michigan Power Company from the North American Company. In 1987, Wisconsin Electric restructured by establishing Wisconsin Energy as a holding company for Wisconsin Electric, Wispark, Wisvest and Witech. In 2000, WEC acquired WICOR (Wisconsin Gas's holding company). This merger created the largest electric and natural gas utility in Wisconsin.
Wisconsin Energy's utility and non-utility business segments as follows:
We Energies, which is its electricity and natural gas utility energy segment serving customers in the Milwaukee Metropolitan area and the Upper Peninsula of Michigan
We Power, which designs, builds and owns electric generating facilities
Wispark LLC and Bostco LLC, which develops and owns Wisconsin area real estate properties. Wispark and Bostco currently own $85M in real estate holdings as of FY 2011.
In 2003, Wisconsin Energy hired Gale Klappa and two other senior leaders away from Southern. Since hiring Klappa, Frederick Kuester and Allen Leverett from Southern, WEC's stock has outperformed the S&P 500 and the S&P Utilities Sector and was comparable to Duke Energy.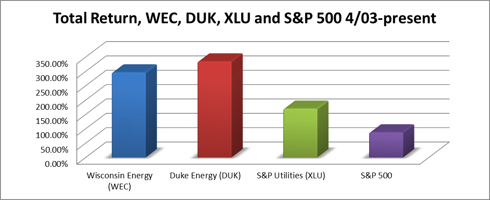 Source: Morningstar Direct (March 2003-June 6, 2012)
We can see that both WEC and DUK are top-tier utility companies with high-dividend yields and a strong Midwest presence. Unlike WEC, Duke has a presence in the fast-growing Southern United States (Carolinas and Florida upon completion of the Progress Energy acquisition). Both companies have similar power generation portfolios, relying on coal and nuclear power. Duke generated 60% of its energy by coal and 37.6% of its energy by nuclear power in 2011 while Wisconsin Energy generated 54% of its energy by coal, 7% by natural gas and 37% by nuclear power plants that it used to own, but sold in order to fund its Power-The-Future Program last decade. We were impressed that Wisconsin Energy's EPS growth exceeded Duke's since 2007, even though Duke's legacy service areas were in the fast growing areas of North Carolina and the Charlotte metro area.
Other reasons why we prefer Wisconsin Energy versus Duke Energy:
We believe that Wisconsin will improve its population growth over the next 10 years. Wisconsin generated a 6.5% total population growth from 2000-2010 and we believe it will improve from 2010-2020, as the Wisconsin Economy improves.
Wisconsin's population growth slightly exceeded the Cincinnati metro area (Duke Energy's Midwestern operations) and we believe that Wisconsin's growth will narrow its gap growth with Florida and the Carolinas (Duke's Southern Power franchise).
We believe that the budget reforms sponsored and signed into law by Scott Walker will enable Wisconsin to put a lid on its indebtedness and enable the state to begin making it more attractive to business operations. Scott Walker handily won his electoral rematch against Tom Barrett and we expect that Walker will continue with his economic reforms.
We believe that improvements to Wisconsin's economic competitiveness will increase demand for utility services from WEC. We already see that Wisconsin's unemployment rate of 7% is below the 8.2% national average.
Though Wisconsin Energy's dividend yield of 3.08% is lower than the 4.32% yield from Duke, we like the fact that WEC has grown its dividend (adjusted for spin-offs) faster than Duke since 2000.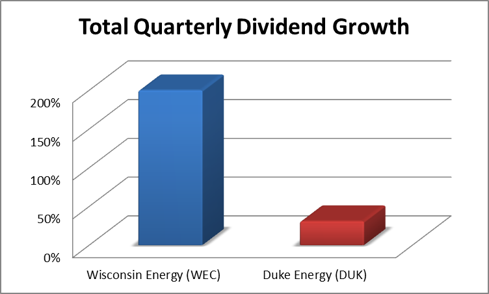 Source: Morningstar Direct (2000-2012)
We also like the fact that Wisconsin Energy is looking to increase its dividend payout ratio to 60%, which is still less than the 77% payout ratio of Duke Energy.
Despite being located in a slow-growth, high cost of business state, WEC grew its EPS faster than DUK, which had the benefit of the low-cost fast-growing Charlotte, NC territory.
We believe that Duke will face profit headwinds in integrating Progress Energy. WEC does not have any significant acquisitions on the table
Duke will have to pay $875M in concessions in order to gain regulatory approval to acquire Progress. At least it is less than the $1B Exelon had to pay to acquire Constellation, which was a smaller utility in a slower-growing state.
In conclusion, we believe that if one is looking for a high-quality utility to invest in, you can't go wrong investing in Duke Energy, especially since it will be the most valuable utility company in the world based on market cap upon completing its acquisition of Progress Energy. You also can't go wrong investing in Wisconsin Energy, which was always a well-respected Midwest utility, but has made a great leap forward in improving its operating and financial performance under former Southern Company Chief Financial Officer Gale Klappa and other Southern Company Alumni. The nine factors we identified is why we hold Wisconsin Energy and why we'd recommend it to anyone interested in the utility sector, especially in lieu of Duke Energy. We also believe that the environment for utilities that generate power with coal will improve after 2013, as we believe that the EPA's war against coal will begin to abate around that time. We can also note that Duke and Wisconsin energy do not rely exclusively on coal as both utilities have about 40-50% of its energy generation portfolio in sources other than coal.
Disclosure: I am long WEC.
Additional disclosure: Saibus Research has not received compensation directly or indirectly for expressing the recommendation in this report. Under no circumstances must this report be considered an offer to buy, sell, subscribe for or trade securities or other instruments.