Over the last few months, investors in Spanish banks have had a rough time of things - continued problems in Europe, Spanish sovereign debt hitting its highest yields and the long wait for the audits of the Spanish Banking system.
Some investors/analysts - such as myself - have been saying that there are opportunities within the Spanish banking sector. In my case, I have been recommending that investors look into Banco Santander (NYSE:SAN) as it is misunderstood, which creates opportunity (my take on the sector are here and here). While some of the headwinds - continued problems in Europe and Spanish sovereign debt hitting its highest yields are still present, the audit models and scenarios have been released (English versions):
Report by Roland Berger,
Report by Oliver Wyman,
The reports were nicely summed up by Reuters (emphasis mine):
Spain's banks would need 51-62 billion euros ($64-78 billion) in extra capital to weather a serious downturn in the economy, less than a 100-billion-euro aid package offered by the euro zone, independent audits showed on Thursday.
"The (capital needs) are lower than the amount agreed on with the Eurogroup to give security and confidence to markets, with enough room to carry out the restructuring," Fernando Restoy, deputy governor of the Bank of Spain and head of bank restructuring fund FROB, told a news conference.
The audit said Spain's three biggest banks - Banco Santander, BBVA (NYSE:BBVA) and Caixabank - would not need extra capital even in a stressed scenario. It said the problems were limited to a small group of Spanish banks on which the state has already started to act.
"Everything seems to indicate that additional capital needs will be concentrated in banks that have already been taken over by the FROB," Restoy said.
The stressed scenario are shown in the following (taken from the documents linked earlier):
The macro view: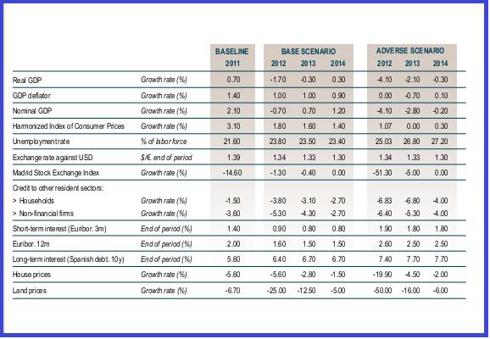 Click to enlarge
The credit loss view: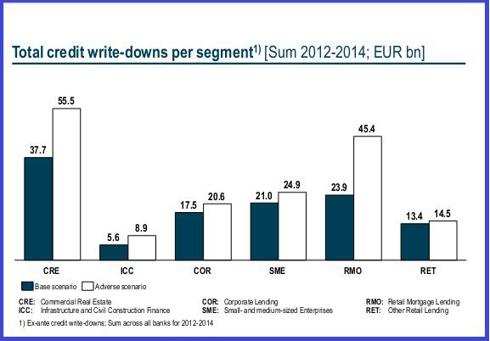 Click to enlarge
RBSC considers the adverse scenario as harsh. Real GDP change is forecast at -4.1% in 2012 (figure 5). This change would represent the worst GDP decline in Spain since the introduction of democracy and free markets in the late 1970s. The decrease in GDP continues with -2.1% in 2013 and -0.3% in 2014. In contrast, current data for Q1 2012 indicate a -0.4% change in GDP. Consensus forecasts from June moreover estimate a decline of GDP by only -1.6% in 2012 as a whole and a positive GDP change already in 2014.
Honestly, this doesn't seem like the sugarcoated, fluff stress test we have seen before. Oliver Wyman's scenario: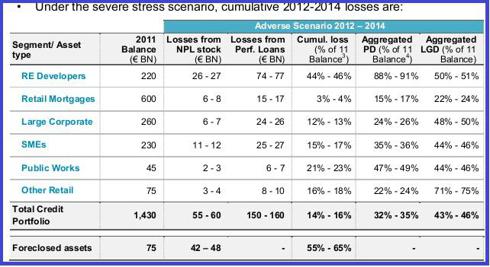 Click to enlarge
Wyman's adverse macro scenario: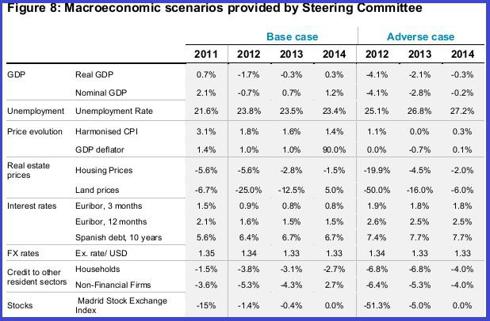 Click to enlarge
"The adverse scenario appears reasonably conservative on two counts. Relative to 30 year Spanish history [and] relative to scenarios used in stress tests conducted in other jurisdictions (e.g. EBA Europe-wide stress tests and US CCAR)"
From the Fernando Restoy powerpoint:
The core of the Spanish banking sector is resilient to highly adverse macroeconomic developments, while the problems are limited to a group of institutions for most of which actions from public authorities have already been taken
This is a lot of information, but the reports were well written and the scenarios have to be understood. I personally don't care about the baseline scenario, I care about the worst case scenario, which is what I have summarized.
Here is what the equity and the Series E preferred look like: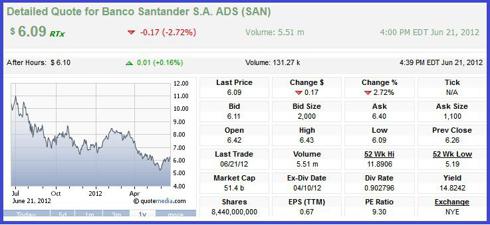 Click to enlarge
and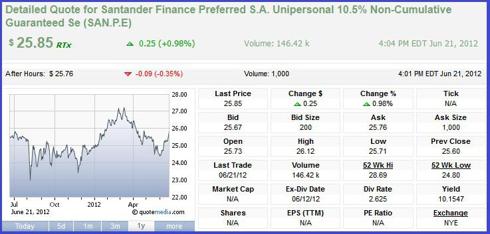 Click to enlarge
Bottom Line: I reiterate my BUY recommendation on both the ADR and the Series E preferred. The bank is misunderstood (less of a Spanish bank than it would seem) and has been beaten down due to expectations of a recapitalization and possible dividend cuts. Management has stood by their statement they will pay the dividend on the stock and the preferred has distributable profits language similar to the Royal Bank of Scotland (NYSE:RBS) "must pay" preferreds. I do not expect that these securities will rocket back up to their former prices near-term as there are still issues to deal with, but I do believe an investor will do well with these securities - and collect decent income as well.
Disclosure: I am long SAN.
Additional disclosure: Also long various RBS preferred stock. This article is for informational purposes only, it is not a recommendation to buy or sell any security and is strictly the opinion of Rubicon Associates LLC. Every investor is strongly encouraged to do their own research prior to investing.