Recently, we took Royal Dutch Shell (NYSE:RDS.A) to task for its planned drilling north of Alaska. We suggested that if we wanted to take a bearish position on the stock, we could do this by buying a put, and this would limit our downside, unlike "shorting" outright. We placed a hypothetical trade to follow the life of a put and see what we can learn. Well, two short days later, Royal Dutch Shell has suffered a more than 3.5% drop in its stock price and the lesson we have to learn is a very practical one.
At the time we took the hypothetical position, we noted:
So let's take the plunge. We will call this the "Polar Bear" trade (it is important to name your trades). This trade will start out with an immediate paper loss, as buying a put always does. The put is being offered for $5.40 but has a bid of $5.00 if we wanted to close the trade. This is the spread and you can read here how it is related to liquidity.
Here's a look (Source ETrade):
Click to enlarge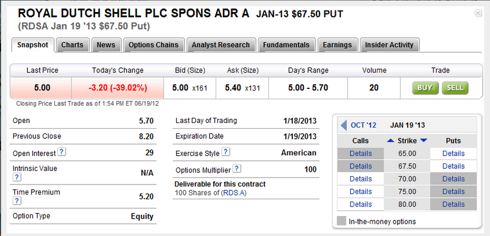 Click to enlarge
Royal's options are not heavily traded so we noted that the spread was a negative for us, resulting in an immediate 7% paper loss. The bid was $5.00 and the ask was $5.40. Now, with the beating Royal took in Thursday's market, have a look: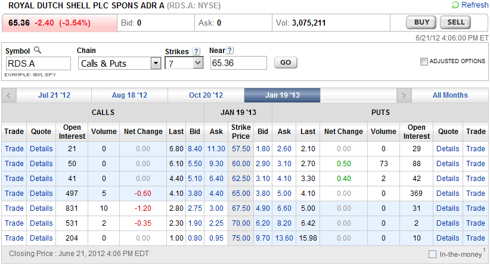 Click to enlarge
The asking price went to $6.60, up 22% - which is about right for a leveraged instrument like this put. But look at the bid, it went down! The stock got pole-axed and the right to sell it higher lost money!
This spread between the bid and ask price has everything to do with liquidity, with how much these options are traded. These options are lightly traded to say the least.
Conclusion
When trading options the "spread" between what an option can be bought and sold for is one of the first things an options investor should look at before taking a position. The above move in Royal is very likely a minor blip and tomorrow a buyer may come to the market and tighten that spread up, but there are no guarantees. If a holder of this put wanted to exit, they would have good reason to think today was a great day to do so, but liquidity and the spread say otherwise.
Most of the energy sector got cut down with the broad market on Thursday, possibly a good day to hold puts on these energy names: Arch Coal Inc (ACI), Alpha Natural Resources, Inc. (ANR), Apache Corporation (NYSE:APA), Baker Hughes Incorporated (NYSE:BHI), Peabody Energy Corporation (BTU), Chesapeake Energy Corporation (NYSE:CHK), ConocoPhillips (NYSE:COP), Chevron Corporation (NYSE:CVX), Devon Energy Corporation (NYSE:DVN), Enbridge Energy Partners, L.P. (NYSE:EEP), EOG Resources, Inc. (NYSE:EOG), Halliburton Company (NYSE:HAL), Hess Corp. (NYSE:HES), Linn Energy, LLC (LINE), Marathon Oil Corporation (NYSE:MRO), National-Oilwell Varco, Inc. (NYSE:NOV), Plains All American Pipeline, L.P. (NYSE:PAA), Petroleo Brasileiro SA (ADR) (NYSE:PBR), Penn West Petroleum Ltd (NYSE:USA) (NYSE:PWE), Royal Dutch Shell plc (ADR), Seadrill Ltd (NYSE:SDRL), Schlumberger Limited (NYSE:SLB), Statoil ASA (ADR) (NYSE:STO), Suncor Energy Inc. (NYSE:SU), TOTAL S.A. (ADR) (NYSE:TOT), Valero Energy Corporation (NYSE:VLO), Exxon Mobil Corporation (NYSE:XOM).
Disclosure: I am long ACI.