Valero Energy (NYSE:VLO) is in the refining business, although it owns some pipelines and 6800 service stations too. It has 16 refineries with a total of 3 million bpd of throughput capacity. It also has 10 efficient corn ethanol plants with a production capacity of 72,000 bpd; and a diesel from waste cooking oil and animal fat plant, which is under construction. Its Mid-continent refineries are well positioned to take advantage of the relatively cheap light sweet crude coming from the many new shale oil plays. Recently two new pipelines are bringing more of this light sweet crude to the Texas Gulf Coast.
The Seaway Pipeline reversal now brings 150,000 bpd from Cushing to the Texas Gulf Coast. This pipeline is jointly owned by Enbridge (NYSE:ENB) and Enterprise Products Partners (NYSE:EPD). They plan to expand its capacity by 250,000 bpd by sometime in Q4 2012. This would bring the overall capacity to 400,000 bpd. ENB and EPD plan to further expand the Seaway pipeline by another 450,000 bpd by sometime in 2014.
This would bring the total capacity to 850,000 bpd. EPD also just brought Phase I of the Eagle Ford pipeline online. This will bring 350,000 bpd of light sweet crude to the Houston area (Sealy, Texas). Other pipelines such as TransCanada's (NYSE:TRP) Keystone pipeline's southern leg will follow. VLO has three refineries in the Houston area. Admittedly a good portion of VLO's Houston area refinery capacity currently operates on heavy, sour crude. However, I am sure that VLO will manage to make some use of this extra cheap light sweet crude availability.
Plus, the Seaway pipeline can bring sour crude from Canada to VLO's high complexity refineries. Cheaper oil will mean higher margins for VLO. This will allow VLO to more fully utilize its capacity as it will be able to export such things as jet fuel and gasoline to other countries, which have to use more expensive Brent crude.
Cheaper oil is not the only positive factor that should help VLO. There have been many Atlantic Basin closures, which have reduced the excess capacity. VLO has increased its yield of distillates. These have higher margins. Plus the prolific development of shale gas resources has led to a glut of natural gas. Natural gas prices have fallen, and they are likely to stay low for some time. Since refineries need to heat things to refine crude, having a much cheaper available heating fuel source is another big advantage to VLO over European, Asian, or Latin American refiners.
Even without the recent dramatic fall in natural gas prices and the recent increased availability of cheaper light sweet crude via new pipelines, VLO has gleaned 24% of the US gasoline and distillates export market. With the added new advantages, the percentage and the overall amounts exported will increase. These things should filter down to VLO's bottom line in the near future. VLO has 715,000 bpd in refining capacity in the greater Houston area (the Houston, Port Arthur, and the Texas City refineries).
It might also be that a number of its other Gulf Coast or even North Atlantic refineries could take advantage of the newly available cheaper light sweet crude via shipping or pipelines. In sum VLO is fundamentally set up to achieve higher crack spreads than most of its competition, especially foreign competition.
The analysts' EPS estimates are beginning to bear this out. Even though the world economic outlook has been getting worse over the last few months, VLO's FY2013 EPS estimates have risen from $4.29 to $4.41. That's not huge, but it is a lot bigger when you consider that most other companies estimates have been falling. On top of this the price of oil, whether Brent or WTI, has been falling lately. Some might think this would mean that refinery use would fall too on cyclicality issues.
However, as I previously pointed out, many of the world's excess refineries have closed recently. The excess capacity is very low now. VLO is gaining access to ever more cheap light sweet crude. VLO's refineries are able to refine virtually any type of oil. They are able to refine many products other refineries cannot. Thus even with a slowdown or a recession, VLO should be able to profit and grow. Many other companies cannot say that. Many other companies do not pay a 2.60% dividend that will help you weather the tough economic times of the near future.
The two year chart of VLO gives some technical direction for the trade.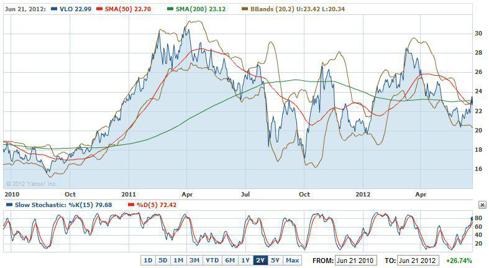 Click to enlarge
The slow stochastic sub chart indicates that VLO is near overbought levels. The main chart indicates that VLO has been in a near term down trend. The 50-day SMA is below the 200-day SMA. However, the 50-day SMA appears to want to cross the 200-day to the upside soon. Given the increasingly positive fundamentals, this seems a likely outcome, even in these trying economic times. There is good support at both $20 and $18. This means there is limited risk to the downside.
I doubt VLO will skyrocket in the near term; but it is set up to grow its profits in the near term and the longer term. Averaging in is probably a good idea, especially after Goldman Sachs' recommendation to short the S&P500 for the near term. VLO is a buy even if it is usually a cyclical.
The fundamentals are such that it should be able to defy industry cyclicality this time. Too many people such as the Latin Americans and the Europeans will be trying hard to save any money they can. They will provide VLO with plenty of business beyond its US business. VLO's fundamental advantages are just too great.
NOTE: Some of the fundamental fiscal data above is from Yahoo Finance.
Good Luck Trading.
Disclosure: I have no positions in any stocks mentioned, but may initiate a long position in VLO over the next 72 hours.