Family Dollar Stores, Inc. (NYSE:FDO) operates a chain of self-service retail discount stores primarily for low and middle income consumers in the United States. The company offers consumables, including household chemicals, paper products, food products, health and beauty aids, hardware and automotive supplies, and pet food and supplies; and home products comprising domestics, which include blankets, sheets, and towels, as well as house wares, giftware products, and home decor products.
It is scheduled to report its Q3 2012 results on June 28, 2012, before the market opens.
Technical Overview
Key Metrics
Market Cap: 8.37B
52-week trading range: 44.42 - 74.73
Trailing P/E: 21.12
Forward P/E: 16.92
Price/Sales: 0.94
Price/Book: 6.88
PEG Ratio: 1.33
Total Debt: 532.45M
Annual dividend yield: 1.10%
Return on Equity: 33.83%
Return on Assets: 13.77%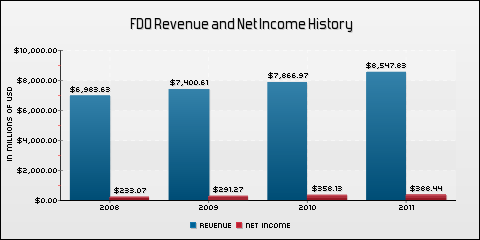 Recent EPS Actuals vs. Estimates
The company has met or beaten analysts' estimates in the last three quarters. In the last quarter it reported $1.15 EPS, beating analyst estimates of $1.13.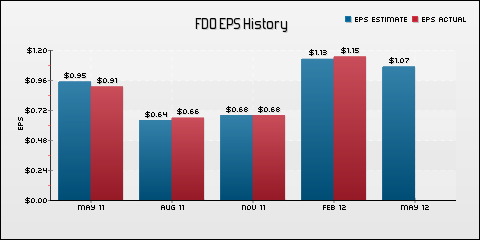 The consensus EPS is $1.07 based on 26 analysts' estimates, up from $0.91 a year ago. Revenue estimates are $2.37B, up from $2.15B a year ago. The median target price by analysts for the stock is $69.00.
Average recommendation: Overweight
Source: Marketwatch
Analyst Upgrades and Downgrades
On June 14, 2012, the company was downgraded from Overweight to Equal Weight at Barclays.
On March 29, 2012, Barclays reiterated Overweight rating for the company.
On March 26, 2012, the company was upgraded from Neutral to Buy at MKM Partners.
Latest Developments
Competitors
Family Dollar Stores Inc. operates in Discount, Variety Stores industry. The company could be compared to Dollar General Corporation (NYSE:DG), Dollar Tree, Inc. (NASDAQ:DLTR), J. C. Penney Company, Inc. (NYSE:JCP), and Wal-Mart Stores Inc. (NYSE:WMT). Below is the table comparison of the most important ratios between these companies and the industry.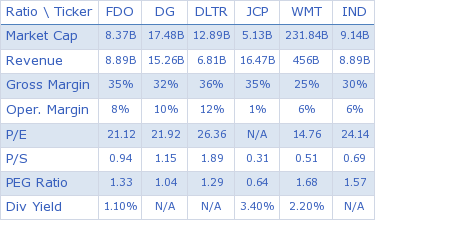 Below is the chart comparison with the stock price changes as a percentage for the selected companies and S&P 500 index for the last one year period.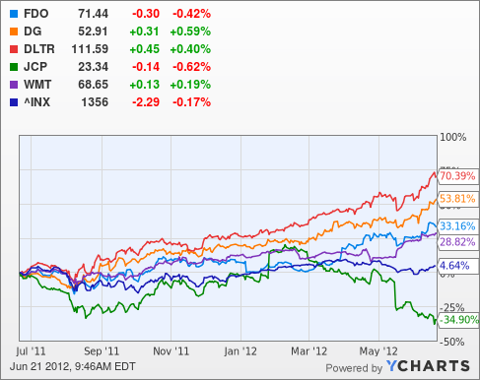 Competitors' Latest Development
Sources: Yahoo Finance, Google Finance, Marketwatch, Finviz, Reuters.
Disclosure: I have no positions in any stocks mentioned, and no plans to initiate any positions within the next 72 hours.