Synchronoss Technologies (NASDAQ:SNCR) is a relatively new software company that handles the activations and provisioning of a variety of services for ILECs, CLECs and other companies. They are most widely known for activating the iPhone for AT&T (NYSE:T) and Apple (NASDAQ:AAPL).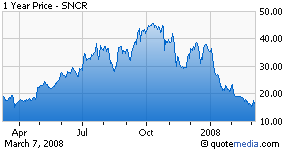 Recent developments revealed the conundrum in Synchronoss' model. As customers push more transactions through the company's platform, the price they pay for each transaction goes down. Certainly this is beneficial to the customer, and Synchronoss would argue that it creates value. But when has price alone created value? To support this, I would offer the weak contract terms that Synchronoss has with the various "whales" they covet. Contracts in this space, and I doubt they are different for Synchronoss, are as follows:
1. Contract lengths less than 3 years
2. 30-day termination clauses and no liquidated damages provisions
3. High SLA standards with limited bonus, but severe penalties
Not to mention that this space is a relationship business i.e. "It's who you know". Further risk exists should internal advocates be displaced or move on.
In fairness, margins do go up considerably to the tune of 50%+, but let's be clear. This is a game changing activation and provisioning software that takes the human element out of the equation. Numbers vary, but for a fully loaded domestic/internal customer service agent you can expect to pay $24.00 - $35.00 per hour. Synchronoss charges $1 - $10. To me, the delta doesn't add up. I mean, if the value proposition is so compelling, why not price it to leave room for future volume incentives. I believe the company has mispriced its offering and has limited its bargaining power in the relationship with their customers.
Synchronoss announced after completing a competitive bidding process that they would be entering Europe and using the "in country" expertise of two system integrators, one of whom is Siemens. The problem I had with this was how the company represented the launch. CEO Steve Waldis clearly stated on the Q3 2007 call that analysts should expect revenue from Europe hitting the bottom line in Q4. Well, that did happen but it was and is still unclear where the revenue came from? To date the company has not articulated the source of the revenue and in subsequent conferences Mr. Waldis has stated that they have not signed a CSP in Europe, opting to seek a complete broad based adoption of the Synchronoss platform. The plot thickens.
This brings me to my final point on Synchronoss. The company's ability to close deals is hampered by who they covet. For the most part, Synchronoss deals with procurement departments working on behalf of Customer Care and Marketing teams with the various CSPs they sell to. The sales cycle inherent in this type of sale can last up to 2 years with the company's unique value proposition having to navigate scoring matrices that often are more tactical than strategic. This 'decision by committee' is tedious and can be a real impact to growing the CSP base. It's important for Synchronoss to grow quickly as most of their revenue is tied to AT&T. Revenue concentration is bad for any business and Synchronoss has yet to spread the model's risk across a much wider customer base. On a positive note, the company did just announce Sprint (NYSE:S) as a customer, but this ramp is back loaded for 2008 and will not have a meaningful impact until 2009. Until then, if AT&T gets the flu, so will Synchronoss.
The company's stock has suffered like most growth companies, but I believe that the fall would have been less dramatic if the company would have been clearer in their growth expectations and less promotional. Time will tell if they can regain their momentum. It's not good enough for a stock to ride a tide from highs to lows with management selling free shares all the way. Building long-term value should be a priority for Synchronoss. Let's hope they are listening.
Disclosure: Believe it or not, I am long SNCR.