From the first day of options trading in Facebook (NASDAQ:FB), May 29, 2012, here is what the hedging actions of proprietary trading desks and block trade desks have implied as price ranges reasonable to expect in coming days, weeks or more.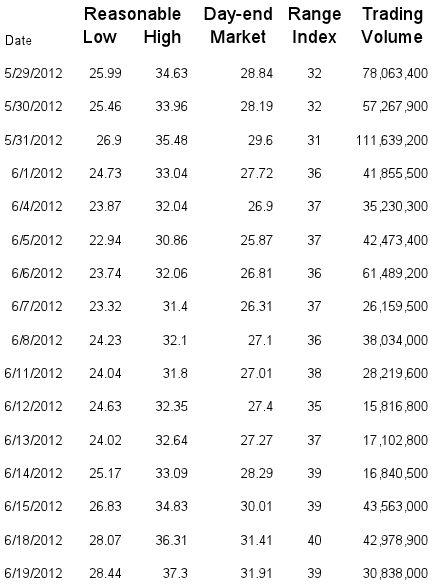 Price range forecasts have moved at nearly the same rate and direction as market quotes, hence the Range Indexes have remained in a fairly narrow span of 31 to 40 (price getting slightly more expensive).
Just as a reminder, the Range Index is a measure of where the current market quote lies within the forecast range, as a percent of that range, above its low end.
Given the hype, speculation, and introductory trauma of Facebook's IPO, the rather placid after-market qualitative appraisals have been a real testimony to the evaluative capabilities of a highly-liquid, intensely-observed transaction arena.
The most serious decline in price once the hedging market has been operative was -13%, over a three-day period. The subsequent gain from that point to this past Tuesday's close has been +23%.
Facebook's present implied price change prospects are for a potential further gain of +17% with exposure to a possible drawdown of -11%. That compares with other Internet Network stocks as pictured below. FB is at [4].
The trend of FB prices and forecasts is pictured below, but is too brief a history to support any justifiable sense of direction yet. Still, it provides more useful focus on the possibilities than many of the hopes of FB enthusiasts or denouncements of its unconvinced critics.
We expect to periodically provide updates to this evolving appraisal saga.
Disclosure: I have no positions in any stocks mentioned, and no plans to initiate any positions within the next 72 hours.