Barron's cover story: A damning exposé of government-sponsored mortgage giant Fannie Mae (FNM). Put on your helmets, because according to the venerable magazine, Fannie's headed for a crash of Humpty Dumpty proportions.
"[Fannie's] balance sheet is larded with soft assets and understated liabilities that would leave the company ill-equipped to weather a serious financial crisis. And spiraling mortgage defaults and falling home prices could bring a tsunami of credit losses over the next two years that will severely test Fannie's solvency."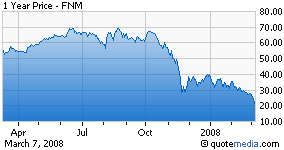 Recently, St. Louis Fed president William Poole told an audience that while he has no inside data on GSEs [Government Sponsored Enterprise = Fannie and Freddie (FRE)], "in assessing the risk of further credit disruptions this year, I would put the GSEs at the top of my list of sources of potentially serious trouble."
Fannie reports a net worth of $45.4B, $3.9B more than its minimum capital requirement of $41.5B. BUT, $13B of that are deferred tax credits that only have value if the company earns enough money to trigger them -- an unlikely scenario. Barron's notes that if Fannie were a bank, none of the $13B would be allowed on its balance sheet. Another $8.1B of its net worth is from Lower Income Housing Tax Credit partnerships, which are also likely to expire worthless. That leaves $45.4 - $13 - $8.1 = $24.3B.
Looking at its liabilities, Fannie tells regulators it will have to pay out $15.4B in guarantees on its $2.4T guaranty book. Yet on its "fair value" balance sheet, the guarantees are estimated at $20.4B. What's worse, Fannie's estimates assume guaranty payments of just 0.74% of the portfolio, where smaller rival Freddie pegs its payouts at 1.5% -- and Freddie has a lower delinquency rate than Fannie. Also, in Q4 the firm wrote down its $74B of non-agency subprime and Alt-A mortgages by just 6% ($4.6B), of which its says only $1.4B is permanent. Most major banks (MER, UBS) wrote down much higher percentages on similar paper, with no qualifiers. Using conservative default rates, Barron's says Fannie could be hit by cumulative credit losses of over $50B.
A bailout? There's no doubt the government will be forced to back Fannie's debt and guarantee obligations, much of which are owned by major U.S. creditors like China and Japan. But taking over its debt, and potentially the company, is not likely to be a savory move for shareholders. "Firms in trouble ought not to be bailed out, unless the bailout takes a form that imposes heavy costs on managers and shareholders," Poole says.