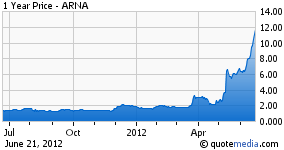 Arena Pharmaceuticals (NASDAQ:ARNA) share price is currently parabolic. In the last 2 months, ARNA has risen from just over $2/share to almost $12. The stock is on a 10 day winning streak with shares up over 81%. Lorcaserin, ARNA's weight loss drug, is up for FDA approval on June 27th, 2012. Lorcaserin is looking to become the first weight loss drug of its kind to get FDA approval since Fen-Pfen. Vivus (NASDAQ:VVUS) has a competing drug, Qnexa, going up for FDA approval on July 17th. ARNA investors should be excited that Lorcaserin is likely to be approved this year. The bad news … shares have already fully priced in the approval.
You should be selling and taking profits in ARNA right now. ARNA's stock price in the midst of a massive short squeeze, with more than 39.7M shares sold short. Shorts are getting creamed, there is currently no borrow available on the stock, as all shares have been lent out. The short covering is creating a vicious cycle of buying from shorts being squeezed each day. The cycle continues until it doesn't; it's a house of cards. The company is real and the product is legit, but that doesn't mean it should defy logic and never go down.
A bear raid seems inevitable between now and June 27th. The stock will break and when it does, it'll lose 15-20% in a single day, it'll happen with shocking speed. With ARNA near $12, the risk is way to high to hold onto shares. I believe the shares should be $11-$12 on approval and $2-4 on a rejection by the FDA. JP Morgan's analyst sees a 70% chance of "ultimate" approval for ARNA, though there may be a standard 3-6 month delay. Any delay would send shares well below $10. Investors who are long the stock should count their blessing for this epic short squeeze, and sell their shares. I'd advise against entering stop loss orders.
Above $12 in pre-market this morning, no investor in their right mind should be holding the stock. Investing is a risk/reward proposition; ARNA is not offering the right reward. It's a bubble ready to burst. After approval, shares will gap higher and probably trade lower for several weeks if not months due to hype currently in the shares. Take your money and run!
Remember two quotes:
"Bulls make money, bears make money, pigs get slaughtered"
"Sell when you can, not when you have to"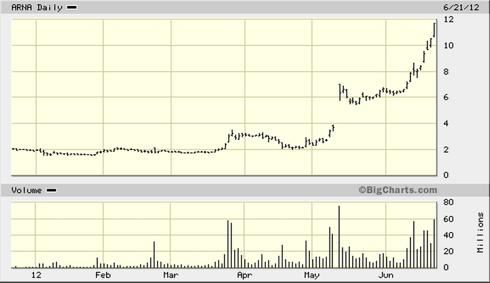 Click to enlarge
(Click to enlarge)
Disclosure: I have no positions in any stocks mentioned, and no plans to initiate any positions within the next 72 hours. May initiate a long ARNA puts trade within the next 72 hours.