Collective Brands
(NYSE:
PSS
) is expected to report Q4 earnings Tuesday with a conference call scheduled for 5:00 p.m. ET.
Guidance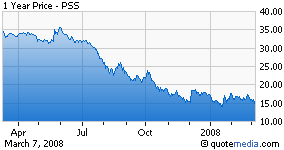 Analysts are looking for a loss of (27c) on revenue of $792.72M. The consensus range is (37c) to (22c) for EPS, and revenue of $765M to $828.9M, according to First Call. In December, Collective said it sees Q4 same store sales down in the mid-single digits, Q4 margins of 500 to 600 basis points lower than last year and the Q4 impact from purchase accounting is expected to be dilutive by 41c. Sales at footwear companies have slowed in recent months as consumers have looked to cut spending. Other issues hampering sales include slower job growth, the credit crunch and a weak housing sector.
Analyst Views
In a January 15 note to clients,
Goldman Sachs
warned that a U.S. recession is likely to drag down sales for footwear companies, including Collective, this year. The firm initiated Collective shares with a Neutral rating. Goldman also said that footwear companies face the greatest earnings risk during an economic slowdown because of higher fixed costs that will likely bring greater margin decline from pressured sales.
On March 5, Collective's Stride Rite unit announced a partnership with Tommy Hilfiger Group under which Tommy Hilfiger will bring its men's and women's footwear business in-house effective January 1, 2009.
Next event: Collective will present on March 12 at the Banc of America Securites Consumer Conference at 12:00 pm ET.