Shaw Communications Inc. (NYSE:SJR) provides broadband cable television, Internet, home phone, telecommunications services, and satellite direct-to-home services in Canada and the United States. The company offers cable television services; digital phone services; high definition (HD) television, including three dimensional HD; on demand programming comprising impulse pay-per-view and video-on-demand services; and Internet access services to residential and small business subscribers.
It is scheduled to report its Q3 2012 results on June 28, 2012, after the bell.
Technical Overview
Key Metrics
Market Cap: 8.29B
52-week trading range: 18.25 - 23.24
Trailing P/E: 13.31
Forward P/E: 11.95
Price/Sales: 1.74
Price/Book: 2.61
PEG Ratio: 3.15
Total Debt: 5.17B
Annual dividend yield: 4.80%
Return on Equity: 21.76%
Return on Assets: 6.67%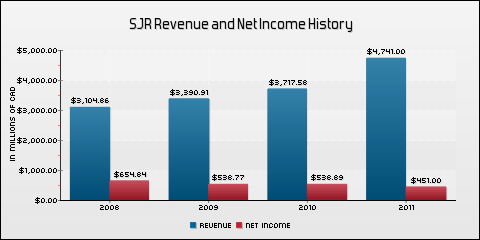 Recent EPS Actuals vs. Estimates
The company has met or beaten analysts' estimates in the last quarters. In the last quarter it reported $0.38 EPS, beating analyst estimates of $0.37.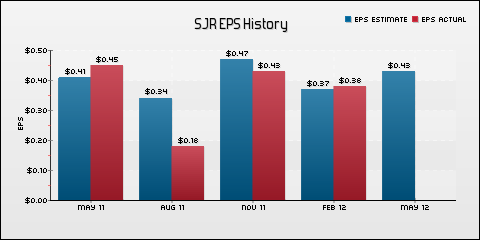 The consensus EPS is $0.43 based on 7 analysts' estimates, down from $0.45 a year ago. Revenue estimates are $1.30B, up from $1.28B a year ago. The median target price by analysts for the stock is $19.77.
Average recommendation: Overweight
Source: Marketwatch
Latest Developments
Competitors
Shaw Communications, Inc. operates in CATV Systems industry. The company could be compared to BCE, Inc. (NYSE:BCE), Rogers Communications Inc. (NYSE:RCI), Time Warner Cable Inc. (TWC), and Virgin Media, Inc. (NASDAQ:VMED). Below is the table comparison of the most important ratios between these companies and the industry.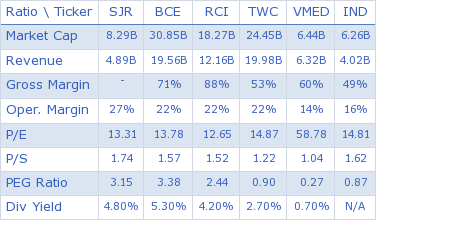 Below is the chart comparison with the stock price changes as a percentage for the selected companies and S&P 500 index for the last one year period.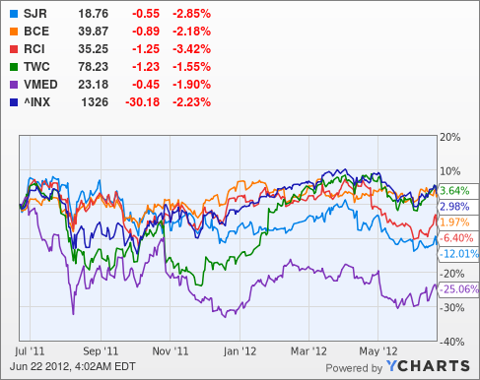 Click to enlarge
Competitors' Latest Development
Sources: Yahoo Finance, Google Finance, Marketwatch, Finviz, Reuters.
Disclosure: I have no positions in any stocks mentioned, and no plans to initiate any positions within the next 72 hours.