Procter & Gamble (NYSE:PG) recently reported earnings and the market was very disappointed in the results. P&G expects that its Q4 earnings will be around 75 cents - 79 cents per share. Analysts were expecting between 79 cents - 85 cents per share.
The slowdown in sales is an issue for P&G's stock mainly due to the valuation. The stock has a forward P/E of 14.69, which is fairly large for a large and mature company like P&G. This explains why the stock reacted so negatively by falling more than 4%.
Even as P&G sales slow and valuation contracts, P&G is still one of the strongest companies in the world. Its brand strength is known worldwide and found in nearly every household.
Since the earnings report was fairly poor, it's still premature to go and buy the stock after it fell. It makes sense for investors to instead consider selling put options on P&G.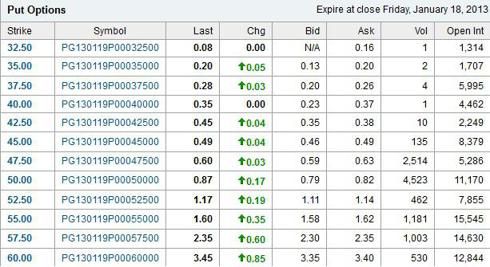 Since the stock fell on the news, the value of the puts rose. This is a good opportunity for investors to grab a decent premium while waiting to purchase a good company.
Although the $60 strike seems good, I do feel the stock can still go a bit lower. I recommend investors consider selling the $57.50 strike puts for Jan 2013. Investors will probably get a premium around $2.25 - $2.35. This gives you a yield around 4%. However, keep in mind you are basically being paid 4% to wait for 7 months. If we annualize the return, the yield is more like 5.6%. The best part about the $57.50 strike is that there is a nice margin between the strike and the current market price. Its also a great price to hold P&G if the option is exercised.
Disclosure: I have no positions in any stocks mentioned, and no plans to initiate any positions within the next 72 hours.
Additional disclosure: I have sold the 57.50 Jan 2013 puts.