In a previous article I discussed a little bit about the "PE Compression" shareholders have been seeing in Apple (NASDAQ:AAPL) -- a stock with a trailing 12-month PE of around 14 (compared to something like 180+ for Amazon).
This compression sent Apple's PE below 13 earlier in the year, but now is back above 14 as you can see here: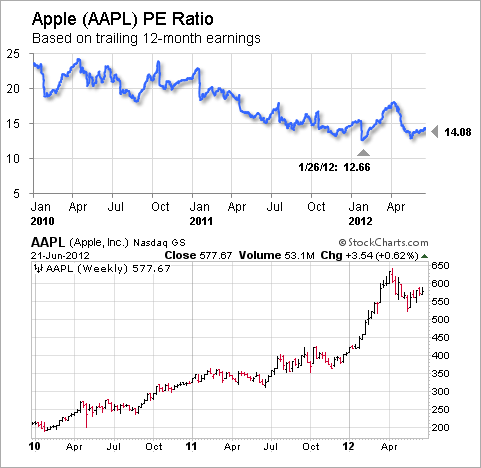 But to see a stock that's really been getting compressed, take a look at Google (NASDAQ:GOOG).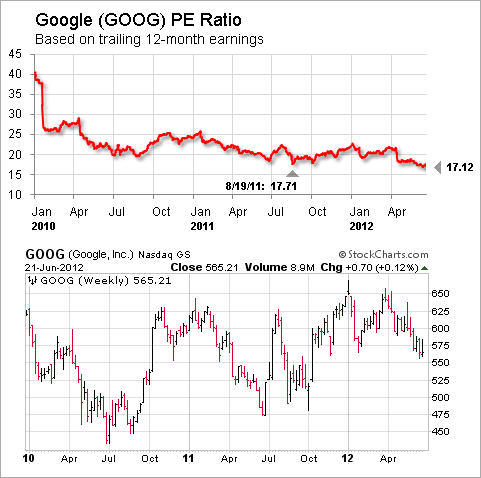 Its PE had been dancing around the 20 level, but sank to 17.71 last August. Now the PE is around 17.12 - exceedingly low considering its 40 PE back in January 2010. I suspect Google shareholders long for the days of even a 20 PE, which would take the stock up about $100.
Note: Let me clarify that my PE charts are a bit different than those you might find on other sites. My charts reflect PE ratios when investors could have known about the ratio, not as of the end of the actual earnings quarter. For example, Apple reported earnings as of March 31, 2012, but they were not released to the public until late April.
Anyway, why the compression? I'm not sure. But it's interesting to note that on a trailing 12-month basis, Apple's earnings per share and revenue per share began exceeding Google's during 2011.
GOOG Earnings Per Share TTM data by YCharts
GOOG Revenue Per Share TTM data by YCharts
While Google has been making strides in increasing revenues. cutting its traffic acquisition costs, and trying to extend its mobile presence, the stock isn't exactly performing well lately - especially compared to Apple.
And Apple has declared somewhat of a war on Google by creating its own mapping applications for future iOS devices, possible cutting revenue opportunities for GOOG.
I don't think PE ratios are the be all or end all of evaluating which stocks to buy, hold, or sell. As an Apple shareholder, I'd actually like to have Google's 17 PE, which would take Apple all the way up to $700 (but I am not holding my breath).
As for Google, consensus forecasts for the next quarter are $10.16. If that holds, trailing 12-month earnings will move up to $39. At a 17 PE ratio, that would take the stock to $664, but if the PE keeps sinking, say down to 15 times earnings, the stock won't get a significant bump and it's going to get harder and harder for the stock to stay above $600.
Disclosure: I am long AAPL.