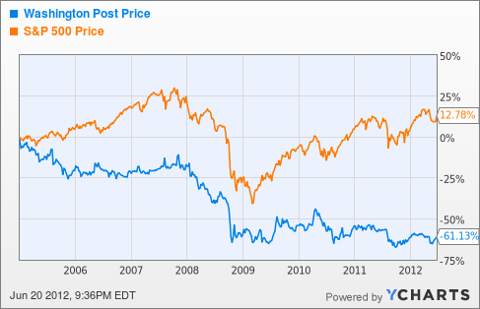 WPO data by YCharts
Warren Buffett, famed investor, Chairman and CEO of Berkshire Hathaway (NYSE:BRK.B), has owned The Washington Post Company (WPO) since the 70s. He's profited nicely off the investment during the time he has held it. His 1977 shareholder letter discloses he already owned nearly 1 million shares bought at an average price a little over 11 dollars a share. By the start of 2005, the shares had soared and neared 1000 dollars. Since then, however, the share price has shrunk by over 60%, to where the company sees its shares trading well under 400 dollars.
Acquiescing toward the trouble of its newspaper business, as recently as 2009 Buffett himself said that he is no longer a very big fan of the business, and sees the possibility for unending losses in the future. He did feel the cable television business was a sufficient reason to hold onto the Washington Post though. Buffett is an investor who rarely sells, and likes to ride his holdings through the thick and thin.
With the Washington Post there is a possibility the future might remain distinctly thin. Buffett's famous "margin of safety" is not apparent in this holding, and even if the company's most serious potential risks don't reach fruition, the reward does not seem worth it. The newspaper business, which is what is most associated with the company, is losing money, making last quarter the 13th out of the last 15 in which it has done so. Kaplan's education services however, is what makes up the bulk of the company's revenue at over 50% and is the company's cash cow. Fueled by rapid growth during the last 20 years, it also happens to be where most of the potential risk is. Falling on harder times as well, its sales fell 11% for 1Q 2012 vs. 1Q 2011, after a 14% drop for last year. Student enrollment fell over 17% from a year ago, 92,293 to 75,984. Last quarter it too suffered an operating loss.
The two other major divisions, cable television and television broadcasting, were able to pick up some of the slack, but together they only account for a little over a quarter of the company's revenue. The cable business, previously championed by Buffett as a reason to hold on to the stock, is not even 20% of the company's revenue, and its growth was flat vs a year ago. It appears neither large enough or remarkable enough to compensate in the fashion Buffett claimed. Overall, its earnings, net income, profit margin and return on equity have all fallen along with the share price. Certainly indicative that the fall in share value was not unjustified.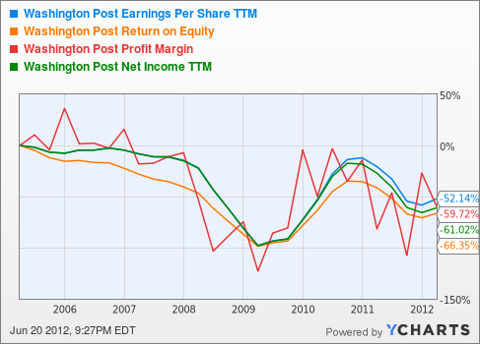 WPO Earnings Per Share TTM data by YCharts
The first quarter 2012 operating gains or losses for the four major divisions are as follows:
Cable Television: 32.8 million income
Television Broadcasting: 31.0 million income
Kaplan Education: 13.2 million loss
Newspapers: 22.6 million loss
Here is the breakdown of the share of revenue:
Kaplan Education: 56.9%
Cable Television: 19.6%
Newspapers: 14.6%
Television Broadcasting: 8.4%
Kaplan recently was getting near 90% of its revenue from federal financial aid. Discussions by the United States Congress about guidelines to be imposed on the for-profit schools like Kaplan leave open the very real possibility that it could one day lose eligibility to financial aid. Lobbying has managed to water down legislation introduced so far, but events such as whistleblower lawsuits bring what many consider to be the unscrupulous business practices of Kaplan to the forefront, and seriously undermine its reputation.
Frequent complaints heard not only from students but from staff are that the company is much more concerned with increasing revenue than with the education it provides, and many of the students are unable to find gainful employment if they graduate, while also being stuck with debt. Obviously losing its financial aid would be an unmitigated disaster, but a second possibility is that enrollment continues to drop steadily. Word gets around, reputation is important, and Kaplan's is not good.
While the company's earnings have been falling drastically, its dividends on the other hand have been growing. It has also spent nearly 1 billion dollars on a share buyback, which began 6 years ago, and whose average purchase price was recently $424, meaning it has taken over a 100 million dollar hit on the buybacks based on current prices. That is not money well spent, especially in times of growing distress.
One particular reason for this is a possible short-term appeasement to shareholders, at the expense of the actual business. Having two classes of stock, with Class A shares being owned by the Graham family with unlimited voting rights and the right to elect 70% of the company's board of directors is not a very good corporate governance structure. The share repurchases have been ill-timed, and the rising dividends make little sense in the environment the company finds itself in.
In many ways Buffett has had a lifelong relationship with the company. People familiar with his biography will note that as a boy this was the paper he delivered on his route. He also was a member of the board of directors for 37 years. The stock doesn't quite make up 1% of his approximately 75 billion dollar common stock investments, but it still remains that hundreds of millions of dollars could be best used elsewhere for his shareholders.
Disclosure: I have no positions in any stocks mentioned, and no plans to initiate any positions within the next 72 hours.