lf you were fortunate enough to buy the S&P 500 at the very bottom in October 2002, your investment would be up 68%. Unfortunately but most likely, 99% of investors didn't buy at the bottom. Instead, investors probably worked their way into long positions in 2003 and 2004 once the market proved it could sustain a clear uptrend.
Below we highlight the returns of an investment in the S&P 500 if you bought at the start of each year and held until now. As shown, unless you bought at the start of 2003, you'd have gains of less than 20% in all instances. And buying at the start of 2007 and 2008 would have resulted in negative returns.
Now, we're all familiar with the long-term historical performance of 6% to 8% annually for equities, but even during the most recent bull market of this decade, that hasn't happened unless you're timing was spot on. Any new market participants over the past few years have really just seen a lot of back and forth action.
Below we highlight the returns of the Dow Jones Industrial Average by decade since 1900 (using 1901-1910, 1911-1920, etc.). At current levels, the Dow is up 12% since the start of this decade. That makes this the worst performing period since the 1930s, even worse than the 1970s (which many people would like to forget).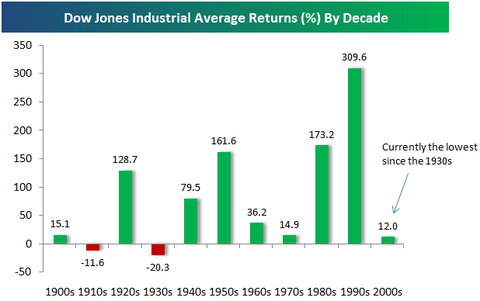 The S&P 500 has risen by 68% since October 2002. However, during that same period there are 71 stocks in the index that are actually down. Additionally, 14 stocks currently in the index have actually lost more than half of their values. As shown below, Tenet Healthcare (NYSE:THC) tops the list with a decline of over 90%. Not surprisingly, all the remaining names on the list come from the Financials and Consumer Discretionary Sector.