High end luxury retailers like Tiffany (NYSE:TIF) have had their shares hit hard over the last few months on concerns that the slowdown in worldwide growth is starting to affect even high end consumers and analysts adjust their earnings downward on these luxury retailers. One stock that has been unfairly grouped into this set of underperforming retailers is Coach (NYSE:COH), whose earnings estimates have not been impacted as of yet. The shares are now offering a good entry point for investors who still believe in the long term growth potential of this company.
6 reasons Coach offers a good entry point for long term growth investors at $59 a share:
The consensus earnings estimates for both FY2012 and FY2013 have both gone up in the last two months despite the pullback in the stock.
The company has a robust balance sheet with almost $1B in net cash on its books and provides a 1.9% dividend yield.
Analysts still expect robust sales increases for Coach. Mid-teen revenue growth is projected for FY2012 and FY2013.
Sourcing initiatives are paying dividends as the company saw a 100 basis point improvement for gross and operating margins during the last quarter. The company also has done a good job in increasing dividends and buying back stock.
Credit Suisse has an "outperform" rating and a $86 price target on Coach. S&P has its highest "Strong Buy" rating on the shares with a $85 price target on the stock.
The stock is right at medium term technical support (see chart).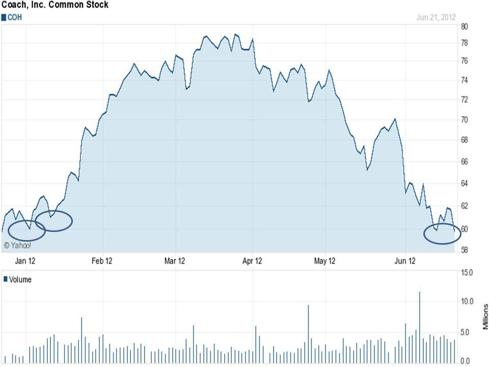 Click to enlarge
(Click to enlarge)
Disclosure: I have no positions in any stocks mentioned, but may initiate a long position in COH over the next 72 hours.