As I discussed in my previous article "Why the French and Greek Elections are bearish for the Euro", the euro continues to be negatively affected by its fundamental flaws. Since 8 May, when my article was published, the euro has lost around 4% to the USD.
This weak performance was driven, to a great extent, by fears of a Greek exit of the eurozone something that given the outcome of recent elections is, at least in the short-term, less likely. But after a short rally when it reached 1.275, the Single Currency drifted lower due to higher Spanish and Italian bond yields.
Additionally, even though last Wednesday the FED signaled that policy will remain very accommodative with no rate hikes until 2015, the USD didn't depreciated after the announcement showing the strong USD support at current levels.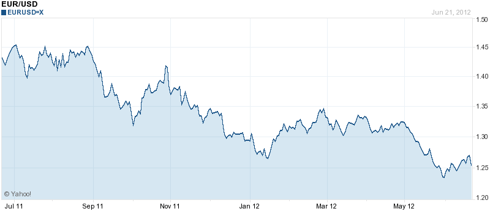 Click to enlarge
(Click to enlarge)
Source: YahooFinance
The most dominant factor for the EUR/USD at the moment remains risk, in particular the eurozone sovereign debt crisis. Although the Greek elections, the G20 meeting and next week EU meeting may support the euro in the short-term, a game changer solution to the crisis isn't likely and this environment of risk-on/risk-off should remain for some time. This risk aversion environment should encourage the USD to strengthen further, as the greenback continues to be seen as a safe currency.
Moreover, in fundamental terms the USD still appears more supported than the euro. Although recent economic data have disappointed in the U.S., such as payroll numbers and the 2012 Q1 GDP growth that was revised lower, the economic activity still compares favorably with the eurozone where a recession is likely, given the weak PMI indexes readings over the last months across Europe.
Potential changes to monetary policy could also have an influence on the euro. The weak economic environment, together with the debt crisis and political uncertainty, still pressure the ECB to take more measures, possibly through rate cuts or more stimulus. If the ECB goes toward zero interest rates, the positive interest differential to the USD would disappear and put more downside pressure on the Euro.
Conclusion
I continue to expect that relative strength shown by the euro since the start of the eurozone debt crisis to be called into question, over the next few months, possibly leading to testing the lows reached at the beginning of the crisis in 2010 (around 1.20). If the eurozone debt crisis deteriorates further leading to a break-up of the monetary union, the downside for the euro would be greater and EUR/USD parity or lower would be likely.
Disclosure: I have no positions in any stocks mentioned, and no plans to initiate any positions within the next 72 hours. I'm short the EUR/USD