Every day for the past two weeks, a new article or report has come out indicating that Google (NASDAQ:GOOG) is on the brink of imploding. First it was the Comscore report indicating that Google's paid search business had declined both sequentially and month over month in January. This report resulted in a tsunami of stories from business journalists and analysts that caused the shares to sink over 20% in less than a week. Comscore eventually downplayed the accuracy of the report, but the damage to Google's shares had already been done.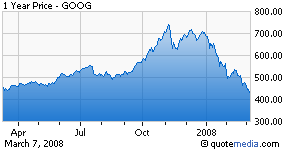 Shortly thereafter a new report came out from SearchIgnite stating that Google's paid clicks had actually risen by an estimated 46% in the January to mid-February time period. In spite of the Comscore gaff and the positive SearchIgnite report, Google's share price never fully recovered and is now sitting just above its 52 week low.
Now this weekend came a new Barron's article, written by Jacqueline Doherty, stating that Google is going to post a big miss this quarter and the company's shares will easily retreat to under $350.00. The same Barron's author penned a similar article about Google in 2006 titled "In the Drink". In that article, Ms. Doherty stated:
Share price could well be cut in half over the next year as the internet giant grapples with growing competition from Microsoft and Yahoo!, increased pricing pressures in its online ad sales and mounting concern about what's known as click fraud.
At the time of that article, Google shares were trading at around $360.00 and did see a quick 5% haircut in the days to follow, but we all know what happened to the share price since then.
Paid search is the most targeted, cost effective form of advertising available and online display advertising is a close second. Advertisers slashing budgets will end up trimming traditional sources first before thinking of reducing their online spend. The migration from traditional media to online is only in the early-mid stages of development in the US with significant growth lying ahead.
Additionally, over 48% of Google's revenue now comes from international sources, much of which are in their infancy stages of growth. Finally, reports surfaced late last week stating the EU is set to approve Google's acquisition of Doubleclick without stipulations as early as March 11th. While the deal is expensive at $3.1B, it will significantly strengthen the company's display advertising business both domestically and abroad and increase annual revenues by over $400M.
In summary, no company is better positioned to capitalize on the continued growth of all things online than Google.
As with all Barron's feature stories, Google's share price will likely take another 5% hit over the next few days. If the relentless selling continues, and the shares do dip well below $350 over the next two quarters, it will signal a great buying opportunity that may not come around again for many years.
Disclosure: The author currently has a long position in shares of Google