BlueMountain Capital Management, a hedge fund run by a former JPMorgan Chase (NYSE:JPM) executive, is believed to be assisting JPM in unwinding positions associated with the bank's recently announced $2 billion loss. According to JPM, the loss was due to a bad new hedging model. Now, apparently, BlueMontain is assisting them in the unwinding process, or possibly in creating that appearance in order to improve its upcoming quarterly report.
Even before JPM announced the trading loss, derivatives traders had identified the 10-year Markit CDX North America Investment Grade Index Series 9, called IG9, as one of the bank's largest high-risk derivatives positions. For weeks prior to Jamie Dimon's disclosure of the loss, the market was rumbling about JPM's London Whale, Bruno Iksil, who was trading derivative positions large enough to demonstrably move prices. The IG9 credit-default swaps benchmark was created in 2007 and is linked to the debt of 121 companies in the United States and Canada
The derivatives trading market now believes BlueMountain has been acquiring positions that would help the bank and selling them to JPM. It is unclear whether the hedge fund already had a large portion of the derivatives needed and sought out more, or if JPM directly solicited their assistance in acquiring certain derivatives by making a market outside of the bank's normal channel of business.
The most likely course of events is that JPMorgan solicited BlueMountain shortly the market cornered their large bad hedge book but it is possible that the hedge fund reached out to JPM. BlueMountain probably already had a decent chunk of positions against JPM and brokered a deal to not only sell them, but also act as a middleman to acquire other derivatives needed along with BlueMountain's contribution and JPM's other derivatives purchases.
On June 20, JPM indicated it was mostly out of their troublesome positions, and this followed a day where over $30 billion in IG9 index contracts traded, which is well over twelve times the recent average.
Andrew Feldstein is the CEO and Chief Investment Officer of BlueMountain. According to the asset management company's website,
"Prior to co-founding BlueMountain in 2003, Mr. Feldstein spent over a decade at JPMorgan where he was a Managing Director and served as Head of Structured Credit; Head of High Yield Sales, Trading and Research; and Head of Global Credit Portfolio."
Given Mr. Feldstein's prior employment and specific expertise in helping create the credit-default swaps market, it is possible that either JPM contacted the asset manager, or BlueMountain offered the specialty service of providing some anonymity in a market intentionally moving against JPM. Large transactions in derivatives like IG9 are generally privately negotiated and made between few intermediaries.
Beyond increasing JPM's access to securities, BlueMountain's Feldstein would have also been a logical consultant regarding modification of JPM's prior model. A derivatives book can likely be modified in numerous differing ways to achieve substantially similar outcomes. The IG9 paper at issue expires or matures in 2017, with many similar indexed securities existing. Feldstein may have helped JPM identify replacement trades and/or tweak the model.
It is unclear whether JPM is done unwinding for the quarter. The bank must decide what it wants to show for the second quarter of 2012, and also consider what it intends to do in the third quarter. With JPM's large portfolio of assets, it is almost always buying something and selling something else. The bank attempts to match up sales to minimize taxes while meeting expectations.
Another possibility, here, is that JPM could be using BlueMountain as a bailee, where it can park some of its bad book for the purpose of improving the position for the short term, and more specifically for the Q2 snapshot, at the end of the month. Some positions could conceivably revert back to JPM, with BlueMountain obtaining some spread on the carry and/or transactional commission. A tell of whether this was what occurred would be if a similarly high IG9 volume blip exists shortly after Q3 begins.
On Thursday, June 21, Moody's (NYSE:MCO) downgraded JPM and multiple other banks, including, Morgan Stanley (NYSE:MS), Bank of America (NYSE:BAC) and Citigroup (NYSE:C), among many others. Most of these banks appreciated the following day, as the market had already anticipated most of the downgrades, and potentially even expected more substantial downgrades for some of the banks. This strength into seeming bad news also appears to indicate that the short-term selling of financials may be over, and that larger investors are again allocating into the large banks.
JPMorgan's share price has declined more than 25 percent through May, mostly after Jamie Dimon revealed the loss on May 10, but JPM's shares have appreciated over 15 percent since it and the broader market bottomed in early June. See a recent chart for JPM: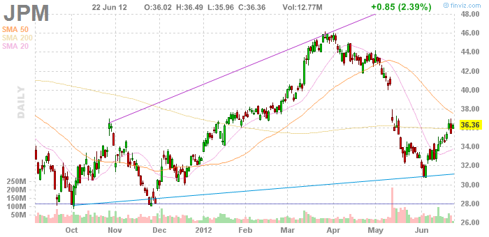 Whether or not JPM's recent maneuvers were a long-term fix to a large book of hedges, or a short-term solution designed to window-dress the balance sheet, the result would be a Q2 snapshot that should be better than previously expected. JPM appears likely to continue appreciating into their coming report, which will kick off Q2 earnings season in about three weeks.