It was quite obvious that March came in like a lion, mauling the entire mortgage REIT sector. Even the mighty agency mREITs fell victim to fears about liquidity and forced asset sales.
At it stands now, mortgage REITs face two very difficult issues that threaten their business models. Identifying and procuring suitable investment opportunities is proving very difficult -- it's like catching a falling knife right now. The spreads are wide and no one wants to let go of their paper into a distressed market. New originations have fallen off tremendously from 2005-2006 levels, so there's very little unseasoned paper available. Secondly, even if suitable investments can be found, financing them will be a challenge. The securitization market is completely frozen and has remained so for sometime now. Repurchase agreements are becoming highly expensive and they expose the borrower to nasty margin calls.
A key point I looked for in the fourth-quarter earnings calls was how the mortgage REITs planned to manage their business going forward. Two companies really stood out to me as having a solid grasp on the challenges at hand -- Redwood Trust (RWT), which I've liked for a long time, and Crystal River Capital (CRZ), which I've worried about in the past (see conference call transcript).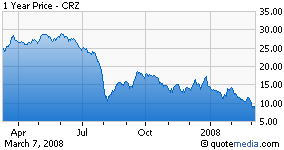 In the case of Crystal River, I think the Company has matured over the last year. They are being careful about match-funding all their investments, and they've shifted their focus to the commercial market, directly owning triple-net properties instead of just buying up CMBS. I think Crystal River will benefit over time from its relationship with Brookfield Asset Managment [BAM] and that the Company will gradually shift from being a pure-play specialty finance company to a commercial real estate originator and investor.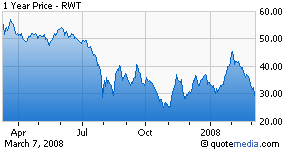 Redwood Trust believes its competitive advantage in managing credit-enhancement securities will allow it shift through the rubble of subprime RMBS and CDOs and identify investment opportunities. Redwood plans to acquire these securities through a third-party fund vehicle, offering limiting parternship units to investors. Thus Redwood can indirectly raise capital to purchase assets. RWT plans to purchase securities through these joint ventures and hold them to maturity, so the success of the fund will depend solely upon the performance of the securities and RWT's due diligence. It's an excellent way to shift risk off-balance sheet and to also spread risk among the limited partners rather than having Redwood purchase the securities outright.
As they say, easy come, easy go. Right now, it's become pretty easy for mortgage lenders and specialty finance companies to go under. Nonetheless, I believe Redwood Trust and Crystal River Capital will be survivors.
Disclosure: none