Vail Resorts (NYSE:MTN) will report earnings today, and if the huge snow bases at its Colorado resorts are any indication, the earnings should look good.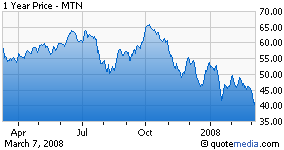 I'll be skiing at Vail Resort's Keystone mountain when the results are announced and will comment on them after I wind down from four wonderful days of skiing the fast groomed blues. The snow's the best in 20 or 30 years, and all indications that ski days are up sharply from last year.
FactSet Research says MTN is expected to report second quarter earnings of $1.42 per share. Vail Resorts closed Friday at $41.62, down from it's 52-week high of $66.25. The options markets are indicating that Vail will touch a high of $46.30 to $49 or a low of $35.60 to $37.80 before the October options expire. Longer-term options aren't traded. That suggests that speculators aren't that interested in the stock.
The four analysts that follow the stock have an average target price of $65.60 and a median target of $66.50. Don't be surprised if the analysts lower their targets in this bear market. Daily, weekly and monthly charts are bearish, and the point and figure chart price objective is $31. Stocks often, but not always, reach their point and figure price objectives. The stock's PEG (PE/EPS growth rate expected for five years) is a low 0.91, and its forward PE is 15.95 while it's trailing 12 months PE is 22.6.
Like a lot of other misguided companies, MTN has attempted to boost the price of its stock by reducing the supply of shares on the market. And it's under water, at the moment, having paid $51.5 million, or $43.61, to buy back shares.
Insiders own 30.7% of the shares outstanding while institutions hold 97.6%. That insiders own so much of the company shows that management has a strong financial interest in increasing the stock price. A large institutional holding is a blessing in the sense that mutual funds and other institutions can be long-term holders. It's a curse in the sense that when portfolio managers become discouraged with a stock, they dump it quickly. An obvious reason for MTN's price decline is that it has a relatively high beta of 1.23, which means that when the stock market falls 1%, MTN drops 1.23%.
Fundamentally, MTN isn't the most profitable company, with a 4.51% return on assets and a 11.3% return on equity. Vail Resorts may be having a strong ski season that boosts its restaurant, hospitality and retail businesses, but is contending with the national trends in retail sales and demand for second homes. The company is a home builder as well as a resort operator. We'll learn more about how these businesses are doing when the company releases its results for the second quarter ended January 31. Last month, Barron's gave MTN a bullish review.