I find it interesting that the 5-Year TIPS (Treasury Inflation Protected Security) has been trading with a negative real yield for the last week or so. On Friday, Bloomberg shows the 5 Year TIPS real yield of -0.18%. I remember when the TIPS bonds were first issued in 1997. I wrote some price/yield routines for them. At that time the real yield was around 3.5%. There were even some index-linked inflation bonds in the UK that traded with real yields over 4%.
Buying the 5-Year TIPS with a negative real yield is a little like buying real estate with negative cash flows. The only rationale for buying is to bet on higher inflation and price appreciation.
Why is the real yield negative? There are two main reasons.
Liquidity crisis- TIPS investors are afraid and looking for safety and liquidity at any price.
Inflation Expectations- The 5-Year Treasury yield is now 2.43%, so the implied inflation rate priced into the 5-Year TIPS is about 2.61% annually. This is higher than the Fed's target inflation rate. The TIPS market is saying that the Fed is under-estimating future CPI inflation.
The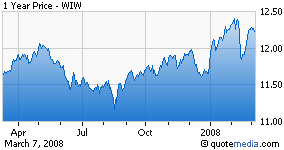 next 5 year TIPS auction is coming up on April 22, and if the market yield stays in negative territory, the next coupon will be set at zero.
There are two closed end funds selling at attractive double digit discounts that invest in TIPS bonds- (NYSE:WIA) and (NYSE:WIW). But I would be cautious with these two. You could buy them for a short term swing trade, but I wouldn't consider them for long term investment. It is only a matter of time before the real yields get back up to the 2% range which would hurt TIPS prices

Full Disclosure: I am long shares of WIW.