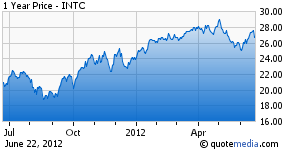 Intel (NASDAQ:INTC) is doing well on the stock market, but so are many of its competitors. For instance, Arm Holdings (ARM) and CEVA (NASDAQ:CEVA) are attracting investors, as is the always competitive IBM (NYSE:IBM). In the last five years, Intel has shown remarkable profitability and increased in consumer demands. Its stock is not exactly on fire but it is one of the companies that are stable and show no signs of slowing down anytime soon.
Moreover, the report on the first quarter revenue of Intel reinforces the market presence of the company from around the world. Based on the report, Intel has gained $3 billion in cash in the last year. Indeed, Intel is one force to be reckoned with on the stock market. And although Apple (NASDAQ:AAPL) is leading the market in electronic-consumer products, which greatly affects Intel because it is tied into PC products only, there are other reasons why Intel remains to be one of the most stable companies out there.
First of all, Intel has an 80.1% market share advantage over its competitor Advanced Micro Devices (NYSE:AMD). Intel is considered to be the mother of all chipmakers, and the newcomers will need to create something big to beat that. Intel has the advantage because it is the first company ever to create a processor that is trusted today by millions of consumers worldwide. And, unlike Dell (NASDAQ:DELL) which is failing these days as it continues to lose its relevance in the PC world, Intel is strong and continues to find ways to stay related to the needs of small and big companies as well as the regular computer users. In fact, Intel processors are the most widely used processors today.
Furthermore, the strong relationship between Intel and Microsoft (MSFT) is an assurance that Intel will never go down, unlike its various competitors. Just recently, the company has announced a new processing platform, which it calls the Ivy Bridge -named as the next unit of computing. It is designed to work on the new Windows 8 operating system, which has certainly garnered its fair share of attention. Moreover, this processor is designed to work on the new laptops that will be released by Intel-the new ultrabooks. With these futuristic laptops, Intel is once again projected to earn millions of money from the sales worldwide. It is speculated that the laptops will roll out on the 4th quarter of the year, but there is really no concrete information on this yet. These products can boost its standing in the stock market and add value to the company.
Another reason why Intel is a smart choice is that it is projected to increased its revenue from selling PCs that are powered by its processor in emerging markets such as China and Brazil this year and beyond. Every year, Intel rolls out something new or upgrades its existing chips to a better or more advanced version. New chips from Intel earn excitement almost immediately after release. The newest of these is the special Atom chip that it's created for PCs. Although this is not being sold yet, it has already garnered tons of positive reviews from anticipating customers. The chip features two processor cores, making it more powerful than the previous chips made by Intel. This news is good for those interested in Intel.
But Intel is not only focused on PC innovation. It has also taken interest in the mobile phone industry and has launched its first Intel-powered smartphone just recently. With this, it is speculated that Intel will not slow down anytime soon in terms of having more sales; not with all the new profitable opportunities it's venturing in.
Of course, the competition is on the move as well. Advanced Micro Devices has been on the move lately, and mostly in the news for its tandem project with ARM Holdings. This "AMD-ARM axis" has recently announced some details of their interworking and the news is not good for Intel. For one, the two companies are working on specialty chips which may go to make this partnership a powerhouse in the future. Secondly, they announced the use of ARM's security system, rather than using the Intel-owned McAfee for this aspect.
Next, competitor CEVA is working toward breaking down barriers concerning the wireless technologies that businesses can use. Just this week, the company announced a new development that "significantly reduces the development burden and time-to-market for CEVA customers targeting the fast-growing Chinese wireless market." Needless to say, these tech and chip companies are working toward gaining a foothold in developing markets like China and the growing arena of personal PC users and businesses.
And, speaking of developing markets, competitor IBM recently announced that it would be providing IT services for Hong Kong based PCCW Solutions. The move is just another example of IBM taking the lead in providing IT services internationally and keeping the solid name and reputation the company enjoys.
While IBM and Intel are often not direct competitors, if Intel hopes to expand to newer parts of the technological world, it will have to go up against giants like IBM. Developing markets are going to be the arena in which these battles are played out.
Intel is enjoying the success it has now because it is an innovative company. Sometimes it's just as simple as that. Intel will keep innovating to change the PC experience for millions of customers, corporations and personal users alike. As long as its new products are met with the same excitement that the company has historically found, it should continue to thrive, and you will want to enjoy the ride.
Disclosure: I have no positions in any stocks mentioned, and no plans to initiate any positions within the next 72 hours.